LOGANVILLE, Ga. — Mayor Rey Martinez is backing Gov. Brian Kemp in his fight with baseball and its sponsors.
Literally.
The mayor was in the background at the state Capitol this weekend as Kemp told reporters he's not backing down in his support for a voting bill he signed, despite criticism from two of the state's best-known businesses.
After Delta Air Lines and The Coca-Cola Co. expressed their displeasure with the Election Integrity Act of 2021, Major League Baseball moved the All-Star Game out of Atlanta.
The Midsummer Classic was to be played in July at the Braves' Truist Park in Cobb County.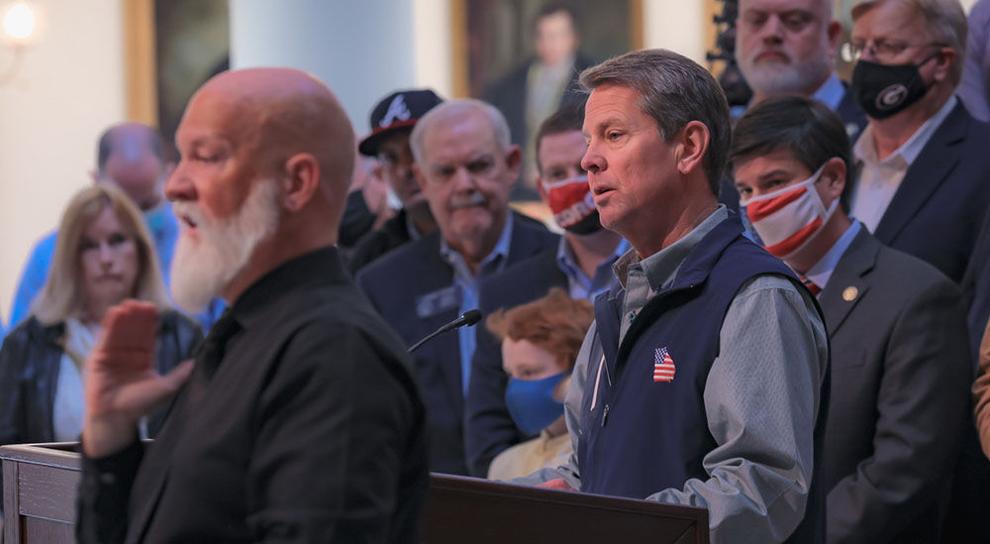 "Major League Baseball fundamentally supports voting rights for all Americans and opposes restrictions to the ballot box," Commissioner Rob Manfred Jr. said in a statement Friday afternoon.
But Kemp, a Republican, said the law is misunderstood and corporations are groveling to the left.
"Major League Baseball caved to fear, political opportunism and liberal lies," Kemp said.
He had special criticism for President Joe Biden, who has called the law "Jim Crow in the 21st century," and Stacey Abrams, despite the Democratic voting rights activist saying she opposed moving the game.
Martinez, in an interview Monday, called the governor's news conference "energetic and very spirited."
He called the decision to move the game "a travesty" and a loss for the middle class.
"It's been a tough year for that (entertainment and hospitality) industry," said Martinez, a former restaurateur.
"I've been to Cobb County for The Battery for a couple of concerts at The Roxy," he said. "There's a lot of restaurants out there that hire workers, servers and so on. That industry right now is hurting and what this was going to bring to Cobb County — the hotels were going to get filled.
"A sporting event of this magnitude, especially the first one after COVID — this was going to be the first one in the country that was going to be open to this point."
The mayor predicted financial woes not just for the workers, but for Atlanta-area governments that might have seen a windfall from visitors coming for the game and its related events.
Martinez also said he thinks many critics of SB 202 have failed to read it.
"The biggest misconception is that right now, Georgia has one of the longest early voting (periods) in the country, 17 days," he said.
"What the law has done is, there are 17 days including another Saturday and they're leaving it to the counties to be open up to two Sundays, so the counties have an option to be open 19 days for early voting.
"That's more than most of the states. That's more than Delaware that has 10 early days, and New York City, which has nine early days."
Martinez said drop boxes will be required in all 159 counties, although the bill also cuts the 24/7 access seen in the last election cycle. Many counties will have fewer drop boxes.
"We are going to have drop boxes; they're just going to be a little more secure than what they were," he said.
The mayor, who had campaigned for President Donald Trump both in his longshot 2016 bid and for reelection in 2020, declined to speculate if there had been fraud on the level to have overturned results as the GOP nominee claimed — and for which Trump tried to prevail on top elections official Brad Raffensperger to "find" vote to flip the state back to Trump from Biden.
"I'm not going to rehash what happened in 2020," Martinez said. "We're ready for 2021.
"We're trying to make it easier to go vote. We want to make it legal and fair, and we also want to strengthen the voter integrity in our state. What happened in 2020, that's history and we're moving ahead.
"Every legal vote needs to count. If there's somebody out there who wants every legal vote to count, that's me."