It may well have been Walton County's biggest trial of the 20th century.
Sharpshooters were positioned around the old courthouse in downtown Monroe and the gallery in Judge Greeley Ellis' courtroom was packed for the duration.
It wasn't just small-town drama. The 1983 trial of Winder residents Harold Smith Chancey and Bobby Gene Goswick, Charles I. Cagle of Demorest and Audie Jordan of Social Circle, along with other defendants whose cases eventually were dropped, was a pretty big legal spectacle too, capping off a case whose 1982 indictments even made headlines in The New York Times.
Chancey, Cagle and Jordan faced charges of violating the Georgia Racketeer Influenced and Corrupt Organizations law. Chancey and Jordan were accused of acquiring or maintaining property with racketeering funds — a drug enterprise of up to $500,000 for importing and distribution.
Chancey's mother, Ruth, also was to go on trial but an illness just before jury selection.
It was the first time any state had tried to prosecute that aspect of a racketeering law.
Firebombing
The murder charges came from an October 1976 arson that killed five children in the family of Mr. and Mrs. James E. Thomas Sr., who rented the home from Chancey's wife.
Jeanette Charlotta Thomas, 18; Cynthia Kathleen Thomas, 15; Steven Jeffrey Thomas, 12; Karen Leslie Thomas, 9 and Allison Lynelle Thomas, 5; died Monday morning, Oct. 11, 1976. Jeanette Thomas was born in Connecticut and her younger siblings were born in New York. They had moved to Walton County just months earlier.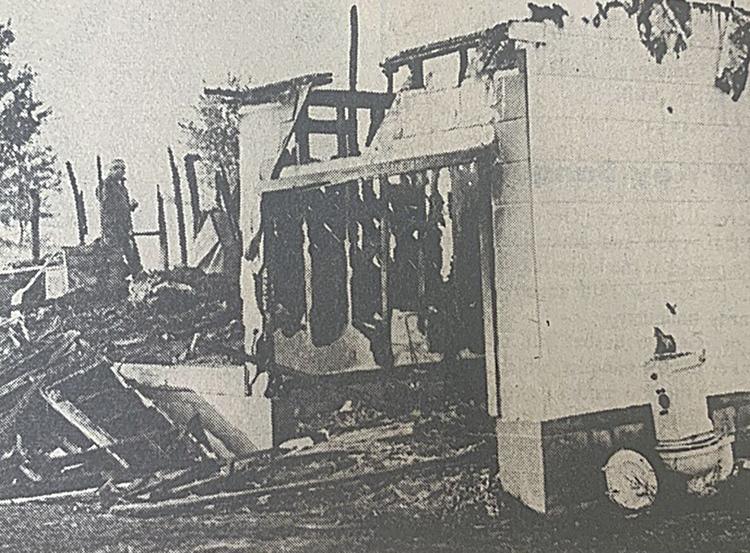 The fire started at about 1:30 a.m. at the family's wooden home on U.S. 78 near Monroe, near where the Hitachi Automotive Systems Americas plant now stands.
It took 20,000 gallons of water to extinguish the blaze.
Two 5-gallon cans were found at the home at the time of the fire. Within hours, state officials confirmed the cause was arson and the children died of suffocation.
District Attorney John Strauss contended that Goswick started the fire to collect $40,000 in insurance money. His attorney, Frank Martin — a future mayor of Columbus — contended Goswick had an alibi: He was running liquor for Chancey that night.
Chancey's ex-girlfriend Barbara Bell testified that Chancey had told her his mother, Ruth Chancey, became very upset he had rented the home to a Black family. Although he said his hands were tied by the law, Bell said Chancey told her, "Yeah, we can burn it."
He denied making the claim.
Ruth Chancey had been indicted along with the other four suspects on the murder charge, but her case was tried separately when she became ill just before the trial's Feb. 28 start. She was treated for gastrointestinal issues at Georgia Baptist Hospital (now Wellstar Atlanta Medical Center).
Harold Chancey's attorney, Ed Garland of Atlanta, made a direct appeal to the four Black jurors, asking them not to convict on the basis of identifying with the victims on racial lines.
Cagle's attorney, Doug McDonald of Cornelia, said convicting his client of the murder would have compounded the Thomases' tragedy.
Chancey was no stranger to Walton County. His stepfather James O. "Jim" Daws, the owner of a grocery store in downtown Monroe, went missing in November 1971. Daws was expected to testify in a Greenville, South Carolina, federal court about moonshine operations involving Chancey and others.
As part of a recent podcast, "In the Red Clay," Sheriff Joe Chapman recently revisited the Daws case. He contacted the son of the late Billy Sunday Birt, who said his father killed Daws, but not because of his pending testimony. It was because Daws was beating his wife, Ruth Chancey, who was involved in the infamous Dixie Mafia with Birt and Harold Chancey.
Criminal enterprise
Prosecutors found that in 1977, Harold Chancey and Cagle began to buy large amounts of marijuana to sell and distribute. Jordan joined their operation in the next year or two, making frequent trips to Florida to buy cocaine and marijuana with money they supplied him.
In the summer of 1979, Cagle and his wife, Jody, brought a load of marijuana to Cagle's lake house in northern Georgia, where Chancey and Jordan met them. Jordan brought a pound of cocaine along, and they cut it into a substance called mannitol.
All three suspects were seen using cocaine at the lake house, although Cagle denied in questioning by Strauss ever having used it.
"God can strike me dead right here if I've ever done any cocaine," Cagle testified.
Prosecutors must have held their breath because they contended the suspects occasionally used the drugs out of shipments they imported to Georgia.
From 1979 through November 1980, Jordan made deliveries of large quantities of marijuana and cocaine to a service station and "stash house" in Atlanta, often accompanied by a man known alternately as "Mountain Man," "Frog Man" and "Bug Eye" — all nicknames for Cagle.
Jody Cagle and Bell, Chancey's ex-girlfriend, also testified they would hold large sums of money given to them by Charles Cagle and Harold Chancey, respectively, and used some of it to defray the costs of maintaining their homes. Diana Jordan, Audie Jordan's ex-wife, also testified she sometimes used money Audie Jordan gave her after he returned from Florida to pay the mortgage on their home.
On one occasion in 1979, Chancey, Jordan and Cagle picked up about $384,000 from a suitcase Jody Cagle held to buy marijuana in Florida.
Wild scene
The Walton County Courthouse — the old one, at the corner of South Broad and East Spring streets downtown — turned 100 in 1983 and it likely had never seen anything like what unfolded that spring.
There was unprecedented security for the time, and a huge jury pool. Ellis didn't issue a gag order, but neither Strauss nor the defense attorneys would say much in the early going because of fears the trial would be moved. In fact Garland, Harold Chancey's lawyer, subpoenaed Tribune executives in his bid to get the trial moved out of Walton County.
Tapes of television news broadcasts were shown to the judge, as were clippings from the Atlanta newspapers and the Athens paper. A Social Circle resident was called to speak on the community's knowledge of the Chanceys and knowledge of the Dixie Mafia.
Cagle's attorney submitted evidence of Tribune coverage of racial issues dating back to 1946, the year of the lynching of four Black people at the Moore's Ford Bridge in Walton County.
"The issue of unsolved murder cases has been sticking in the side of Black people for many years," McDonald said.
According to The Tribune, 251 people were called for jury duty starting Feb. 28, but the Superior Court Clerk Bill Batchelor stood ready to call nearly an additional 1,300 citizens to serve if need be. It's a good thing he planned that because 150 more residents had to be called after the first week.
Several state patrol officers were stationed at the courthouse and a metal detector was used to screen people going into the courtroom. A Georgia Bureau of Investigation bus was parked outside for the duration.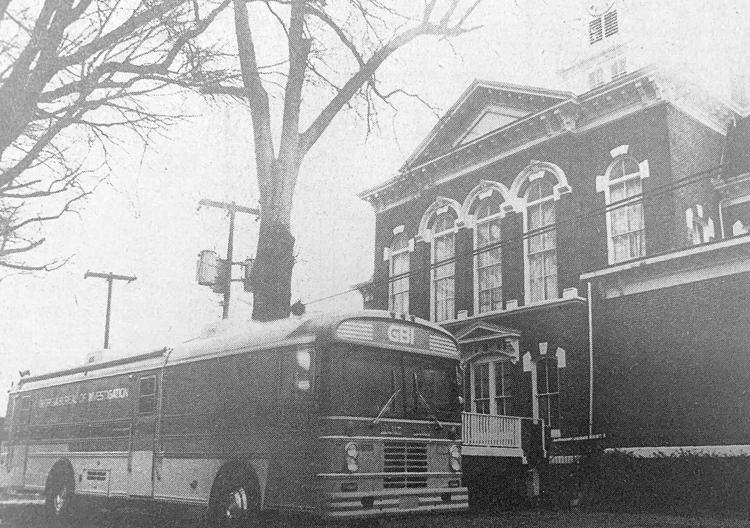 Access to the courtroom was limited to 125 spectators once the trial began, with just 10 press passes issued.
Kevin Little, chairman of the Walton County Board of Commissioners since 2001, was in high school at the time of the trial. He recalled last week that the balcony of the courtroom wasn't available then because it was used for offices.
John M. Ott, now the chief judge of the Alcovy Circuit, was the chief assistant district attorney under Strauss.
"It was a big trial, let's put it that way," Ott recalled. "I don't know if the circuit had had a trial that big, ever, with the multiplicity of defendants. There had to be special accommodations."
That included bringing in tables to make space for the defendants, and their attorneys, at such a large trial.
Ott said the county also secured a house to keep the jury sequestered and brought jurors their meals. The Tribune reported that bailiffs monitored all of the jurors' telephone calls and supervised any visits by family.
"You had the leading attorneys of the state on the defense side," he said. "They came to represent the defendants and the importance of the case ultimately was, it was the first RICO case in Georgia. It's the basis for a lot of the law in Georgia. It was just a big do. The courtroom would be packed with people listening to people."
One of those attorneys was Bobby Lee Cook, a famous defense lawyer from Chattooga County, representing Ruth Chancey. He's thought to have been the inspiration for the title character in "Matlock."
The jury finally was chosen March 14. Attorneys and Ellis settled on eight men and four women — including four Black residents — plus three alternates to serve.
Just missing the cut was Mike Sorrells, and that was quite all right by him.
"I got released like two days beforehand, but it was scary," he recalled last week. "We walked out of the courthouse and people were on top with guns."
Sorrells said he remained in the mix for a day or two, then got released because he knew a lot of people in Walton County.
"I didn't want a part of it, to be honest," he said.
Sorrells confirmed the reports of snipers are no urban legend that's spread through the years.
"You could look around and see them," he said. "They were there to protect us. … It was a different time. Matter of fact, if I remember correctly, I think there was one time they even put a vest on us. It was pretty intense.
"For a 22-year-old, that was unnerving."
The jurors were bused between the home and the courthouse and given chances for exercise — with supervision — and some dining out in restaurants, albeit in private rooms.
The trial
Strauss started his opening arguments March 17. He told of Goswick's alleged role in tapping a pipeline in west Georgia in the 1970s to steal fuel.
There were also oral fireworks with the surviving Thomas child, James Thomas Jr., making an outburst. One of the defense attorneys asked for a mistrial, which Greeley denied.
Jeannette Thomas, mother of the fire victims, testified days later. Strauss noted the fire happened the same day another rental home owned by Ruth Chancey burned. An insurance agent testified that Ruth Chancey increased the coverage on both homes three months before the fires.
The state rested its case on April 1. Ellis denied the defendants' request for summary judgement, but did order charges dropped against two defendants, saying Strauss failed to present sufficient evidence.
The racketeering charge against Goswick also was dropped.
Strauss delivered his closing arguments April 8, urging jurors to "stop this Chancey racket." Verdicts were returned three days later, with the jury voting to convict Harold Chancey, Cagle and Jordan guilty of racketeering.
But there was a mistrial on the murder charges against Harold Chancey and Goswick.
"I will say we are about as divided as mathematically possible," jury foreman Richard Rupert wrote in a note to the judge.
Several of the jurors later confirmed they split 6-6.
"I believe we could have stayed there 100 days and the situation wouldn't have changed," juror Jaye Kuhn told The Tribune.
Rupert said he thought many of the jurors thought the case was circumstantial at best.
"They (those voting not guilty) would have liked some evidence that placed the defendants at the scene," he said.
"It was just not enough evidence to convince these 12 people."
Kuhn said jurors were "praying for an eyewitness" to get them over the hump.
Rupert said jurors made the best decision they could.
"No one should fault them for their decision," he said.
Sources close to the case estimated half a million dollars was spent on defense attorneys. The county spent $10,000 in pay to prospective jurors during the two-week jury selection period and about $6,300 was spent on jurors' food, entertainment and transportation while they were sequestered.
Ellis sentenced Chancey, Jordan and Cagle to the maximum 20-year prison sentences for racketeering in June 1983, and ordered each to pay a $25,000 fine.
Chancey was already in prison by then after a federal judge sentenced him to serve 30 years for violating his probation on a 1972 moonshining conviction. He was released from federal prison in 1991 and went to state custody, serving until 1996.
He died Sept. 11, 2003, at age 63.
Ruth Chancey died Dec. 16, 2008, at age 93.