I carried Mother's World War II Navy-issued raincoat from the basement along with a publication by the WWII Navy WAVES, of which she was a member.
"Mother," I said, as I opened the door to the living room, speaking to her as if she were standing at the top of the stairs.
"Did you hear what I just called you?" I asked my husband, who sat in his recliner watching TV.
He glanced at me.
"I called you Mother. I meant to say Bob, but I said Mother."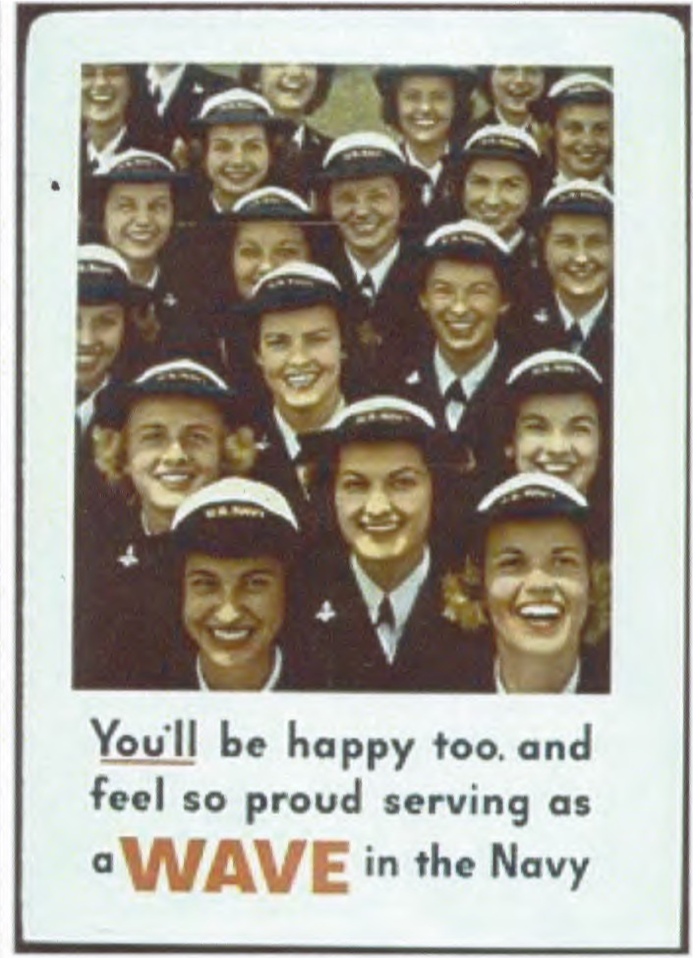 "Well, you're carrying her in your arms," he said.
I smelled the coat that I held like a baby as it draped across my shoulder — the rich smell of aged gabardine, but no smell of her remained.
"I have her hat, too, you know."
Taking my bundle, including pictures from World War II, into my bedroom, I found Mother's uniform hat with its "Property of the Navy Reserves," tag and another tag with her name on it: I. R. Harris — Ivah Ree.
Tears prick my eyes as I remember the frail woman who was once so strong. A deeply religious woman given to cursing — "sh- - a- -" being one of her favorite expressions to describe someone. She could out-preach any man of the cloth who came through the Mountain Creek Baptist Church in Monroe, Georgia, where she belonged and sang in the choir in her off-key alto voice, ever searching for the harmony.
She wrote the Mountain Creek Baptist Church News for the local paper — a journalist in her own right who raised two writers: my sister Valerie, who was a freelance writer, and me, a creative writer documenting Ivah Ree's biography — Ivah Ree Harris, US Navy WAVE.
Navy Women: The WAVES
The United States Naval Reserve (Women's Reserve), better known under the acronym WAVES for Women Accepted for Volunteer Emergency Service, was established in July 1942, authorizing the US Navy to accept women into the Naval Reserves as commissioned officers and at the enlisted level for the duration of the war plus six months.
Though the notion of women in the Navy was not widely supported by Congress or the Navy, the groundwork was laid by The Women's Armed Services Integration Act through the efforts of Eleanor Roosevelt, among others.
Lt. Cmdr. Mildred H. McAfee became the first director of the WAVES. McAfee was on leave from her position as president of Wellesley College and was an experienced and highly respected educator.
As she set about recruiting WAVES, McAfee primarily used radio and newspaper advertising, posters, brochures, and personal contacts.
Advertising that met her standards for good taste focused on patriotism and the need for women to take positions that would free up male servicemen for combat duty. By 1945 the WAVES' ranks included 8,475 officers and 73,816 enlisted.
WAVES officers initially served in administrative and support roles although many later served as attorneys and engineers. Numerous enlisted women became aviation mechanics.
Eventually WAVES served in 1,000 shore stations in the United States, releasing 70,000 men for combat by taking over routine jobs previously held by men. In jobs such as Navy storekeeping, clerical work, and stenography, the Navy women were at least as competent as Navy men. They weather briefed Navy pilots, made weather observations and forecasts, and directed air traffic from flying fields control towers. They were metalsmiths, radiomen, aviation machinist's mates, truck drivers, laboratory technicians, decoders, and cooks. In the 1,000 Naval installations in the United States, half of them were WAVES at work.
Because of WAVES Director McAfee's academic background, training camps were set up on college campuses. In February 1943, the largest permanent boot camp for all enlistees was Hunter College in the Bronx in New York City.
With a six-week training, new classes of 1,600 women arrived every two weeks. That same year Ivah Ree took her training at Hunter College. More than a half century later, when I interviewed Ivah Ree on 8 mm film in 2000, she told me she actually wanted to be a flight attendant, but at that time flight attendants were nurses so she joined the armed services instead.
In March 1945, Time magazine described the training Ivah Ree and the other WAVES underwent at Hunter College:
"In those six weeks they became trim and sharp — factory-made old salts who referred to walls as bulkheads, windows as ports, and floors as decks. They absorbed Navy tradition, had a quick but thorough briefing on naval operation, naval weapons, history, and current affairs.
"They were also imbued with the idea that if a WAVE quit, it was the same as a battlefront casualty."
While going through a box in my basement, my share of memorabilia that my sister Valerie and I divided when Mother died in 2002, I found "Pass in Review Review!" — a 20-page illustrated brochure describing the community in which Ivah Ree lived after her training at Hunter College — WAVE Quarters D, the largest WAVE quarters in America, located at Massachusetts and Nebraska Avenues in Washington, D.C. It is the single best archive I have of Ivah Ree's career in the WAVES, including her handwritten notes on the publication's photographs.
In the opening page of the brochure is a description of the life as a member of the WAVES in Washington, D.C. Ivah Ree underlined and commented on things that interested her.
She was a country girl from a large family of seven children who grew up in rural Monroe, Georgia. Her parents were farmers, so she could relate to "the fresh country tang" and "the rain-cleansed air"—phrases that she underlined in the script. She also underlined "change of watches at the front gate," as if she enjoyed the responsibility.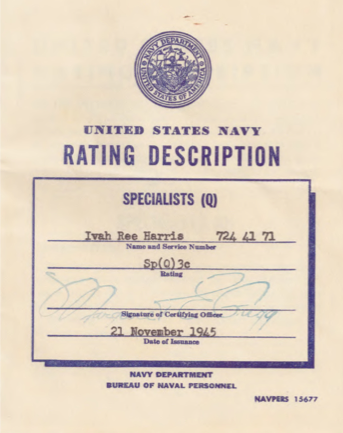 She put quotes around, "Specialists," which was her rating and "This is our world today!" because it described her life there for two years. At the bottom of the page, Ivah Ree wrote "Ain't that touching." She could be sarcastic when things got mushy, although I know she had warm memories of her friends Coonce and Jennings — the last names of two women who served with her and with whom she corresponded all her life. I remember their letters on the top of the TV in the living room where I grew up.
Ivah Ree's rating was Specialist: Sp(Q)3c., a specialist third class. The WAVES were under oath to maintain strict secrecy even after cessation of hostilities, and there were extremely heavy penalties for violation, as described in the "III. Duties Performed section in her Rating Description."
In my interview with her in 2000, she talked about her job in communications. She took messages, not knowing what all the communications meant, and she was not allowed to talk about them, in the same way as the women in Denise Kiernan's biography, "The Girls of Atomic City: The Untold Story of the Women Who Helped Win WWII."
The girls of Atomic City were sworn to secrecy and risked severe penalties for violating the oath by talking about their job, which was to build the atomic bomb. They did not know what they were building until the bomb dropped
Ivah Ree, however, was one of the first to know when the war ended because she copied the first White House press release when President Truman declared victory over Japan on V-J Day, August 15, 1945.
"There was a bomb," she said. "The streets were mobbed, and the transportation shut down in Washington, D.C., because the war ended that day. My roommates and I caught a ride in a private car."
"'Try not to get separated,' I told Coonce and Jennings, 'or we'll never make it back to the barracks,' which was far away. Everyone was kissing everyone. One sailor came up to me and wanted to thank me for taking his job as a yeoman so he could go to sea. He loved my southern accent and wanted me to talk to him. We kissed a few times. He said, 'What do you want to do?' I told him, 'I like to dance.' So we danced in the street while the crowds rushed past us."
I asked Mother, in my interview, if she could have been in the famous kiss in Times Square documented in a photograph published in Life Magazine.
"Yes," she said, "any of us could have been."
Without showing every picture in the "Pass and Review" brochure, I can tell you that Ivah Ree liked to swim in the Olympic-sized pool. In the picture of "The Ship's Fountain," a favorite "hangout any time of day," the counters are filled with WAVES eating ice cream floats. Ivah Ree writes, "Always Crowded."
She enjoyed the Sailorette Theatre, where Naturally Navy, a musical performed with sparkle and saltiness, featured numbers that reflected their world: "Hi Honolulu," "Naturally Navy," "Salty Sue," "Embarkation Blues," and "Dream Crazy." A capacity house including distinguished blue and gold braid acclaimed Naturally Navy a natural.
Also pictured in the brochure is a bus loading for "Dances at Fort Meade (free transportation), Navy Meets Army!"
"Some fun this," Ivah Ree wrote under the picture.
Mother loved to dance. She had a reputation for cutting the rug. I can still see her dancing in the living room, her black hair permed into soft curls, her black, pointed-rimmed cat-eye glasses alight her little, pointed nose, her head down, and arms up as her hips swayed to the music. Her bare feet stamped intricate choreography onto the wood floor. I didn't know the dance—the fox trot or turkey in the straw—but the music was in her. She wore a house dress that was a shift, but it clung to her hour-glass figure—a little overweight then, but still shapely.
She was a sweater girl. That is how she described herself. It was a saying from the World War II era of men. Buxom women were referred to as sweater girls. That was the fashion back then: a thin sweater worn with a straight skirt.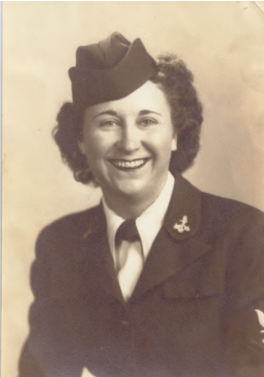 In this picture, Ivah Ree wears the hat I inherited. She was 26. The uniform was made especially for WAVES, designed by the noted New York fashion house of Mainbocher. Their design services were secured by Mrs. James V. Forrestal, wife of the assistant secretary of the Navy. The winter uniform was made from navy blue wool worn with a white shirt and dark blue tie. The jacket was single breasted and unbelted with a six-gored skirt. Included were black oxfords and plain black pumps, a brimmed hat, black gloves, black leather purse, and rain and winter coats. The summer uniform was similar but in lighter fabric. Later, a gray-and-white striped seersucker work uniform for summer was added, along with slacks and dungarees.
Pal O' My Heart
(1936-1943)
When Ivah Ree Harris graduated Monroe High School in 1936, she went to work at the Winder Barrow manufacturing plant in Winder, Georgia. She bought a brand new, black Chevy that she drove to Atlanta to shop at Rich's Department Store, a southern institution, with her girlfriends Dovie and Margie.
"Let's go to Woolworths and get a Coke," Dovie said, after a long day of walking the city streets.
A group of sailors in white uniforms passed the girls and looked back at them. One of them winked at Ivah Ree.
"Follow those guys. I love a man in uniform," Ivah Ree said.
The three girls followed the men into Woolworths and sat at the counter. The men quickly joined them.
"What are you girls up to today? You look thirsty. Let me buy you a Coke," the handsome man with the mustache said to Ivah Ree.
"I'd like a chocolate milk shake," Ivah Ree said, as she stared into his blue eyes.
"One chocolate milk shake coming up."
He ordered the milk shake, and the other sailors ordered Cokes for Dovie and Margie.
"My name is Goldman Frase. Who are you?"
"Ivah Ree Harris."
"Ivah Ree. Pretty name."
"You have the prettiest blue eyes," she said.
"Thank you." He leaned in closer to her.
"Where are you stationed?" she asked.
"I'm based in Seattle, Washington."
"Where are you from?" Ivah Ree batted her eyes.
"Tennessee. I'm home on leave. You?"
"Monroe, about an hour drive. We came shopping."
They talked and laughed the afternoon away, until Goldman had to catch his bus to Tennessee.
"Can I write to you? I ship out in two days. I don't know for how long." He held her hand and kissed it.
Ivah Ree wrote her address on a napkin and put it into Goldman's chest pocket.
"Write to me, sailor." She patted his chest.
They walked outside, and Goldman embraced Ivah Ree, kissing her good-bye. She watched him go down the sidewalk with his buddies dressed in their uniform whites, a lovely sight.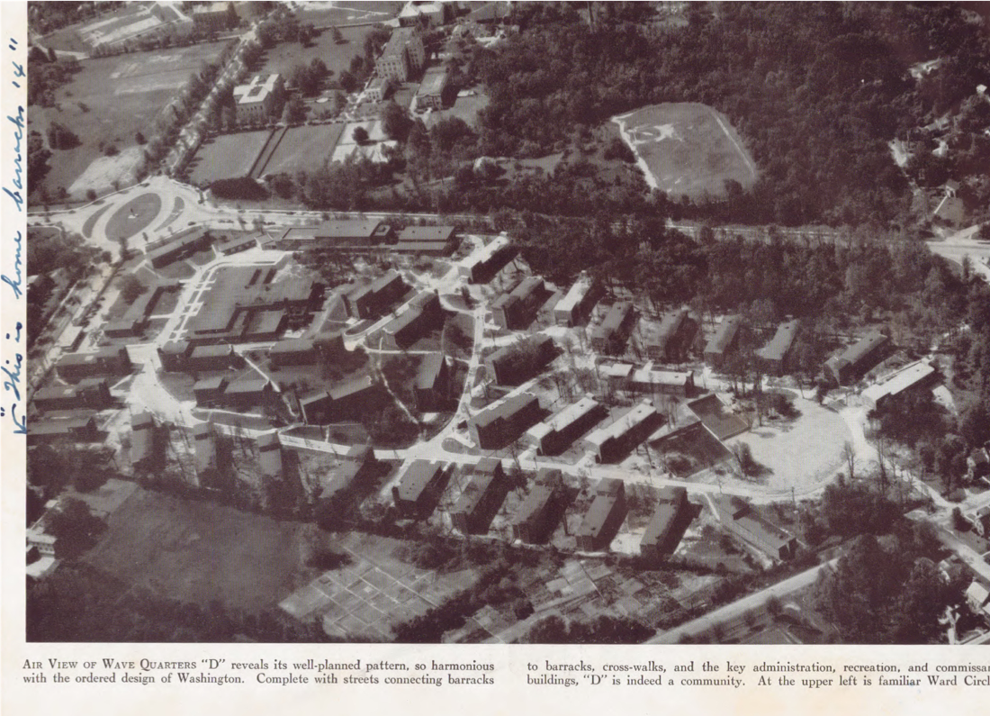 This chance encounter with Goldman could have taken place in Savannah, or at a dance in Athens, Georgia. I found pictures of Mother shopping in Atlanta, and in another picture she stands by the Savannah sign — places she might meet a sailor on leave. Goldman was from McMinn, Tennessee, near Knoxville, so he might have gone dancing in Athens. Since I don't know how they met, I imagined the possibilities.
The fact is Goldman Frase wrote to Ivah Ree for five years, sending her Christmas cards and pictures of his time at sea.
Her first letter from Goldman was a Christmas card in 1937 from Seattle, Washington.
She waited patiently by the mailbox for its delivery, with a 1½-cent stamp of President Warren G. Harding on the envelope and a reminder to mail early for Christmas. "Best Wishes for Christmas," the card reads with no personal inscription inside.
The next year, in 1938, with a 3-cent stamp and Thomas Jefferson 1801-1809 pictured, Goldman wrote from Long Beach, California.
Inside the Christmas card he penned: "I've hunted and hunted. I cannot find the card I want to bestow all the blessings I wish to bestow upon you this coming year."
In April 1938, he sent a snapshot from Honolulu, with an inscription on the back:
"Just trying to keep beer cold."
On April 25, 1940, he wrote to her from the USS WASP, Boston. Included was a brochure on the ship and photos of Goldman.
On Dec. 21, 1940, from Portsmouth, Virginia, he wrote to her. "To the one I love at Christmas," the card reads.
He was a football player and served on the USS Maryland.
On the back of this picture, dressed in Navy white, he wrote: "This sweater was given to me for playing football. See five bars-each year playing. Will send large picture with the whole group wearing them. Guantanamo Bay, Cuba. Feb. 1939."
On the back of this photograph, Goldman wrote: "Here's the picture of those Maryland football players. How cute they are. Look especially at the one with the mustache. The two in the middle with hats on — one is in charge of the ship—one with 4 bars on his shoulder or Captain, either one with 3 bars are Executive Officers. Both of them swell people — they are not with us anymore."
Goldman served on the USS Maryland and played football with these men. The Maryland was on Battleship Row at Pearl Harbor during the Japanese attack on Dece. 7, 1941.
At 9, many of the Maryland's crew were eating breakfast or preparing for shore leave when the Japanese attack began. As the first Japanese aircraft appeared and exploded the outboard battleships, the Maryland's bugler blew general quarters. Seaman Leslie Short, who was addressing Christmas cards near his machine gun, was the first to bring his guns into play, shooting down one of two torpedo bombers that had just released on the USS Oklahoma, sinking her.
Because the Maryland docked inboard of the Oklahoma, she was spared from the initial torpedo attack and managed to bring all her antiaircraft (AA) artillery into action. Survivors from the Oklahoma climbed aboard the Maryland. The ship continued to fire after being struck by two armor-piercing bombs that detonated low on her hull. The first made a hole 12 feet by 20 feet in the forecastle awning, and the second exploded the hull at the 22 feet water level, causing flooding.
The ship listed forward by 5 feet. After the attack, firefighting parties from the Maryland assisted her compatriots, attempting to rescue survivors from the capsized Oklahoma. The men continued to man their AA defenses, in case the Japanese returned to attack. In all, two officers and two men from the Maryland were killed in the attack. These were the two officers Goldman pointed out in the picture.
The Japanese mistakenly reported that the Maryland had been sunk, but on Dec. 30, 1941, the battleship entered Puget Sound Navy Yard for repairs along with the USS Tennessee. In two months she was overhauled and in June 1942, was the first ship damaged at Pearl Harbor to return to duty.
On the back of the above photograph, Goldman wrote: "This only shows one part of the sailors who are all over our ship this way. This picture was taken while we were coming to Islands."
The islands could have been Honolulu, when the Maryland entered Pearl Harbor. The scantily clad men are sunbathing.
On Dec. 21, 1941, just 14 days after Pearl Harbor, Goldman sent a Christmas card to Ivah Ree with a Naval Censor stamp on the envelope. His address was the USS Salamonie, New York City, New York. "Don't know a single wish to send that beats A Merry Christmas Friend," the card reads with no inscription.
Goldman was not on the Maryland at Pearl Harbor, when it was attacked. He knew the men who died according to the report from the Maryland battle at sea taken from the Dictionary of American Naval Fighting ships. In his Muster Rolls found on Ancestry.com, he was on the Maryland from Oct. 31, 1939, through March 31, 1940. That is when he played football with those men and knew them well.
After he left the Maryland, his Muster Rolls show he was on the USS Wasp from April 25, 1940, until Dec. 31, 1940, before going aboard the USS Salomonie from April 28, 1941, till Dec. 28, 1941.
He wrote to Ivah Ree from the Wasp sending her a pamphlet of the history of the Wasp and a picture of himself in his white uniform riding a horse. In another photo, he is shown feeding pigeons in a city square. There also are pictures of the USS Maryland firing rounds and the USS Wasp included in the envelope dated April 25, 1940. The stamp is clipped from the envelope, perhaps by a collector over the years.
On Dec. 18, 1942, Ivah Ree received her last card from Goldman. "A Merry Christmas to the Pal O' my Heart."
The Pal O' my Heart is a song written in 1923 by Jesse Crawford with music and lyrics by Benny Davis.
Many versions of that sentimental song were written in poems during the 1930s. The poem inside Goldman's card reads:
I like to think of you, my own
As the dearest pal I've ever known,
A jolly pal when I feel glad,
A cheery pal when I am sad,
A helpful pal come good or bad,
A loyal pal—and let me add—
The best good pal one ever had,
And year by year you grow more near,
For you are the Pal O' My Heart, my dear.
On the back of the card, Goldman wrote: "Been on the go again. I am now stationed at the below address for the duration."
Repair Division Section Base
Little Creek, Virginia
The Economics of War and How We Got There
In the late 1930s, while Ivah Ree was fresh out of high school and living with her family in rural Georgia, national and international events were setting the stage for her eventual decision to enlist in the WAVES.
America was recovering from the Great Depression and taking a hands-off approach to the war in Europe. The axis countries of Germany, Italy, and Japan were building an arsenal of planes, tanks, ships and bombs to exceed the firepower of the allied countries of Britain, France, and the U.S. British Prime Minister Winston Churchill pleaded for help against the Nazi aggression. Going against the isolationists at home who did not want to send American soldiers into the war abroad, President Roosevelt instituted America's first peacetime military draft in October 1940.
Roosevelt stepped up his non-military commitment to the war effort abroad in his famous Arsenal of Democracy Speech delivered to the American people on the radio:
Guns, planes and ships have to be built in the factories and arsenals of America… But all our present efforts are not enough. We must have more ships, more guns, more planes — more of everything. This can only be accomplished if we discard the notion of "business as usual" … We have furnished the British great material support, and we will furnish far more in the future.
Taking the middle ground, The Lend Lease plan would supply Britain with equipment of war, if not the soldiers.
After the attack on Pearl Harbor in 1941, industrial plants began signing contracts with the government to produce various types of war machinery, converting their facilities to war production. This produced a labor shortage and advertisements for women workers began to appear.
Blue-collar women already in the labor force in 1940 were the first to go to work in the factories. Many women were happy for the opportunity of an industrial job that paid $37 a week compared to that of a waitress at $14 a week. Many laundries and restaurants closed during the war because their owners could not keep workers at the wages they paid. White women and black women left cleaning jobs for factory work.
At that time textile mills and apparel manufacturing were the dominant industries and main employers for local residents. The city of Winder, Georgia, was once known as the "Working Clothing Capital of the World." For many young women in Monroe, Georgia, where Ivah Ree grew up, the pants plant, as it was known, offered a steady income just a ten-minute drive away. Barrow Manufacturing may have begun making military uniforms or other military items.
Ivah Ree worked in the plant for six years after high school to pay off her car and then left to join the WAVES.
One of seven children, Ivah Ree lived with her parents in rural Monroe. They were farmers, and she was a factory worker. Ivah Ree was good friends with Julia Coker, who also worked at Barrow Manufacturing. The plant opened in 1931, so it was new when Ivah Ree and Julia started sewing there in 1936.
After the World Trade Agreement in 1995, many plants were shuttered and businesses moved off shore. Barrow Manufacturing survived until 2006. Julia Coker rose through the ranks as a blue collar worker. She had a long career there and went on to become a manager. She also was instrumental in opening a plant in Haiti. Julia Coker was also my father Dan Coker's sister. Ivah Ree spent much of her free time visiting with Aunt Julia. That is how she met my father.
"I grew up with that family," Mother explained in my interview of her many years later.
I know Ivah Ree dated Dan Coker before the war, but as his younger sister Annette said, "They were not serious until after the war."
In my interview with Mother, I asked where she was when Pearl Harbor was attacked.
"I was at someone's house, and there was a phone call."
"Whose house?" I asked.
"I was at Julia's," she remembered.
It was a Sunday around 2 p.m. on the East Coast with the time change from Honolulu. Maybe they had just finished lunch together, including my dad.
I asked Mother if Dan, my father, was her one true love.
She looked aside. "Well, I had friends." She smiled coyly.
Dan Coker, One True Love
(1912-1951)
Dan Coker was Ivah Ree's husband and my father. He was born in 1912, the second oldest in a family of six children. His father John Russell Coker died from measles during an epidemic in 1922. Dan dropped out of school at age 10 with a third-grade education to help his mother run the farm. He, along with his older sister Francis, who was 12, managed to keep the household together and take care of the younger siblings, who were John B., age 9, Henry, age 6, and Julia, age 1.
Frederica Coker, (we called her Grandma Fred), Dan's mother, had a rough year; her 2- year-old son Ross died from measles the same year she gave birth to Julia. The next year, her husband, my grandfather, died. Soon after that Frederica was committed to the mental asylum in Milledgeville, for two years with a nervous breakdown. The Georgia State Sanitarium in Milledgeville was one of the largest mental hospitals in the United States.
Uncle Early, who was a blacksmith in Winder, and Uncle Jim, both brothers of John Russell Coker, helped out with the farm and the care of the children. When Grandma Fred returned from Milledgeville, she home schooled Dan, but she would spend the next five years in and out of the sanitarium.
Grandma Fred's brother Ernest Breedlove pushed her to marry again as a single mother of six children with a farm to run. She married Martin Tomlin in 1931, and Annette was born in 1932. The marriage did not last, and she lost the farm during the Depression.
Annette is my father Dan's half-sister and remaining survivor of the family. I interviewed her about their history. I asked how Ivah Ree and Dan met. She wasn't sure, but Ivah Ree was always over at the Cokers' house, she said. Ivah Ree and Julia were friends, and Dan was Julia's older brother by nine years.
"Do you think they met at a dance?"
"No, Dan didn't like to dance," Annette said.
But I remember dancing with my dad while standing on his feet when I was little. He asked me to dance when I was in high school, and he chaperoned a school prom. He had a great little fox trot.
"They probably got together at someone's house party," Annette said.
Mother once told me Dan was falling down drunk when she met him. Maybe that was at a house party in Bethlehem, Georgia, where he lived with Grandma Fred. I found notations in an autograph book about the fun parties in Bethlehem.
That my dad would be a drinking man after being forced to grow up at age 10 is understandable. He was the oldest boy in the family to take care of his mother when his dad died. Maybe it is how he coped.
Dan was drafted in 1942, at age 30, two years after President Roosevelt instituted the first peacetime military draft. His brother Henry had enlisted years earlier, and his younger brother John B. married, leaving Dan as the sole provider for the family.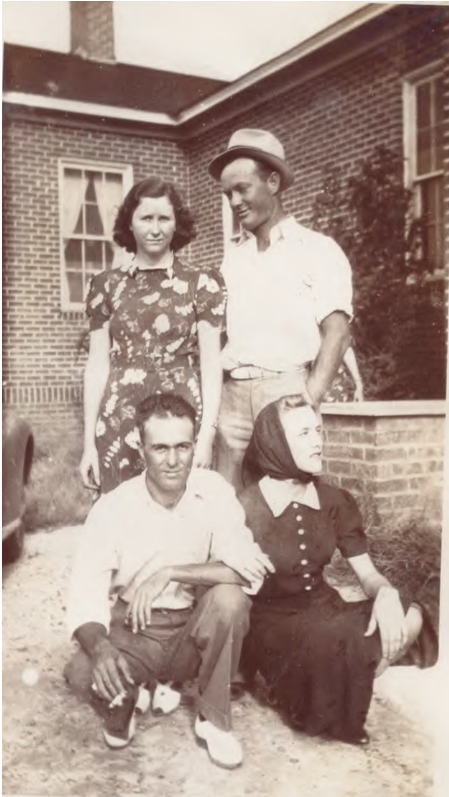 He had cared for his mother since age 10 and continued to live with her and Julia and Annette after Grandma Fred's failed marriage. The family appealed to the draft board because he was the breadwinner, but he shipped out. Dan was gone for three years and never came home on leave, nor did he write to anyone.
He worried about his fragile mother, and he was a father figure to his younger sisters. He distanced himself from them as a method to survive the war.
"He didn't want to come home on leave and then say goodbye again. It would be too painful," Annette said.
Dan worked for the Walton Electric Company before the war and returned to that job, when it was known as the REA (Rural Electric Association), part of President Roosevelt's New Deal to employ men returning from the war. It was an easy transition for Dan, since he ran telegraph poles throughout South Africa while he was in the service.
Stationed in Johannesburg, or as he called it, "J-burg," he fondly remembered the men who served with him, playing cards and joking about who owned Coney Island when they placed their bets.
He talked often about his experiences there until I teased him, "We've heard that story a million times."
"When he came home from the war, he never wanted to leave again," Annette said.
Dan and Ivah Ree were sweethearts before the war and started seeing each other again, when they both returned home in 1945.
"Mama wanted Dan to marry Ivah Ree because at 33 he was getting old," Annette said.
Dan was eight years older than Ivah Ree and grew up in the same town.
"He just lived down the road," she said.
He married my mother after she said, "How 'bout it?"
I learned after Mother died that Dan never wrote to her while he was away. Afraid he wouldn't come back, he wanted her to find someone else. This story was related to me by Coonce, Mother's friend from the WAVES, who called me after Mother's funeral.
Dan was drafted in 1942, and Ivah Ree enlisted in 1943, the same year Goldman Frase married.
Which brings us to the question: What happened to Goldman Frase?
He was a career man who enlisted in the Navy in 1932. Ten years older than Ivah Ree who graduated high school in 1936, Goldman started writing to her in 1937. Ivah Ree wrote to Goldman for five years while dating Dan before the war.
Goldman and Ivah Ree were in close proximity in 1943. Ivah Ree was in Washington DC, for the duration of the war, and Goldman was in Little Creek, Virginia. According to Ancestry.com Goldman married February 21, 1943. Ivah Ree enlisted on August 12, 1943, so when she arrived in Washington DC, Goldman was married. Her last card from him was in December 18, 1942. Two months later he was married.
He was a career man released from the Navy in 1954. Maybe Ivah Ree decided she would rather marry a hometown boy than one who moved every two years. She was a country girl and not likely to change even after seeing the big cities of Washington, DC, and New York. She wanted to go back home. She knew Dan would be there with his family, even though he never wrote to her while he was away.
When they both returned home from the war in 1945, with Grandma Fred's coaxing and Ivah Ree's proposal, Dan accepted. They married in 1946, and my brother Wayne was born in 1947. I was born in 1949, and my sister Valerie was born in 1951. Wayne and I are pictured with our parents.
Dan took care of his family for most of his life. When I was a teenager, I asked him what he was living for.
"To provide for you kids," he said.
Epilogue
The history of World War II unfolded through the cards and pictures of Goldman Frase, a man I never heard Mother mention. In researching him through Ancestry.com and reading the reports of the attack on Pearl Harbor, I felt I knew him in some small way. The fact that he played football with the officers who died at Pearl Harbor was chilling to me. I took Mother to visit Pearl Harbor when I was a flight attendant for United Airlines and Honolulu was my route. She became tearful as we stood atop the USS Arizona memorial.
"Those men are still down there," she said, as the oil bubbled up from the ship still lying on the bottom of the harbor. Perhaps she thought of Goldman.
Whether he was a friend or a sweetheart, I will never know, but she saved his Christmas cards all her life, so I know he meant something to her. He was the mystery man in my story. He was born in McMinn, Tennessee. He married in McMinn, Tennessee, and he is buried there.
When I researched my dad's family through Ancestry.com, the story of Grandma Fred emerged. I knew she spent time in Milledgeville, but after I looked at those birth and death dates of all her children and her husband John Russell, I saw another provocative story—the reason for her nervous breakdown.
I remember Grandma Fred reciting long poems to entertain us when she was our baby sitter. My aunt Annette, who has provided a good history for my story, told me that Grandma Fred was accepted to a college after high school, but her father would not let her go.
During the war, Grandma Fred worked in the cotton mill. A bus came by the little town of Monroe every day, picking up women, taking them to the cotton mill to work, and then dropping them back home each night. Annette thought Grandma Fred enjoyed her employment and getting out of the house.
While her mother was at work, Annette, who was 10 years old, stayed with Aunt Francis who had two children by then. Aunt Julia was 20 and working at the pants plant, when Dan was drafted. Grandma Fred died when I was in high school.
In Mother's pictures, cards, and brochures, I see a different woman than the one I knew when I was growing up. She was resourceful, going to work as soon as high school was out. She was brave, leaving her large family in rural Georgia to join the WAVES and move to the big cities of New York, and Washington, DC. During the war, she was adventurous — very different from the house wife she became when she had three children.
Mother's friend Coonce, called me after Mother died. Coonce told me that her mother did not want her joining the WAVES because of the class of women who might serve there. They may be poor and uneducated and from criminal families. She went on to say that the women she met in the WAVES were some of the best friends she ever could have made, including Ivah Ree.
Now the smiling faces of the military men and women go back into their box of memories, to the basement where I found them. Their time was World War II, and they served their country well in the big cities of New York and Washington, DC, on the ships based in the Atlantic and the Pacific, and across the landscape of South Africa.
They were young and full of hope and ambition for a better life.
Afterwards they returned home to peace time and jobs and the cotton fields, but they talked about the horrific war and the uncertainty of those years. The irony is, they missed it.