At dusk, the lights begin to twinkle slowly.
There are just a few at first, but they build to a stunning display of blinking, glowing light in the late spring sky.
Synchronous fireflies are a tourist attraction in just a few spots around the country. The Congaree National Park in South Carolina puts on a lottery where a handful of people get to see the display each year.
It's the same story in the Great Smoky Mountains National Park.
In both cases, COVID-19 restrictions limited it to even fewer people seeing this rare spectacle this year.
But one man says if you pay attention, you might find it close to home.
That's what happened to a Walton County resident, who learned about the topic and was then surprised to find them on his property in unincorporated Monroe.
The man, whose name and address aren't being used in the story at his request out of a desire to prevent people from trespassing, said he was amazed to find the rare insects.
"I just walked out in the backyard one day and paid attention for the first time in 50 years," he said, "and lo and behold, there they were."
A Walton Tribune editor visited his home recently after the fireflies began their annual display, which lasts two to three weeks for several minutes each night. Indeed, the display is rare and beautiful.
The homeowner was surprised and said he "called up every entomologist I could find," eventually reaching one at the Fernbank Science Center.
The man who specializes in the study of insects was skeptical but made the drive over from Atlanta anyway to see for himself.
"He agreed, yeah, you're not crazy, you've got synchronous fireflies," the homeowner said.
Lynn Faust, who literally wrote the book on the subject — "Fireflies, Glow-worms and Lightning Bugs" in 2017 — spoke with the Walton man and they've stayed in touch.
Recently she surveyed his property through Google Earth and told him the site might be attractive for "Loopy 5" fireflies, a rare species that flash five to seven times in a two-second burst while flying in an erratic loop.
The homeowner paddled out to the middle of his pond one night recently and found them.
"My property is as of now the third known population," he said. It's the only one in Georgia.
For now, word is slowly getting out in scientific circles about the firefly display in Walton County. A University of Georgia professor brought students to the property last week for a visit, and one of the students collected samples for her research.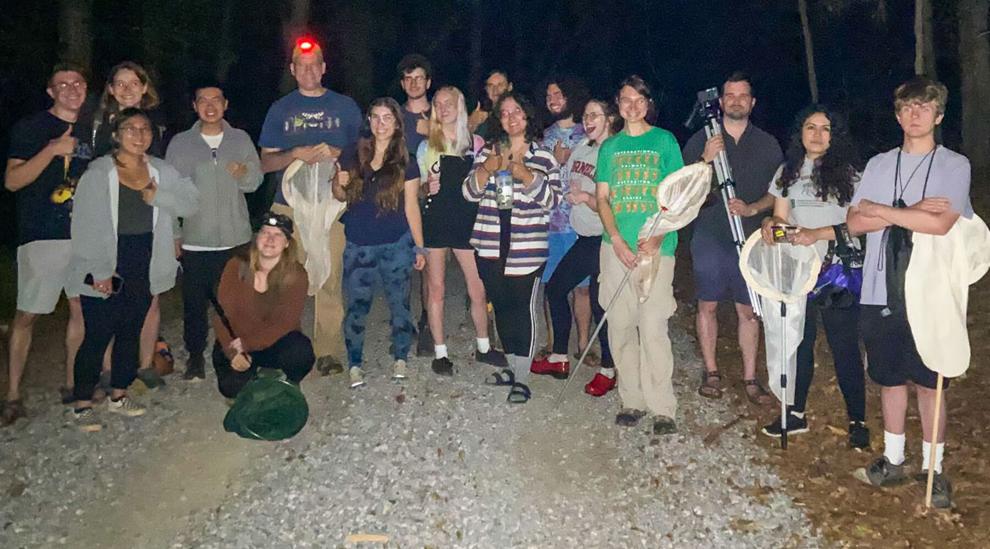 One of the students, doctoral student Haolin "Horace" Zeng, said he "definitely" plans to return.
He said the local display is "not as abundant" as those in the Great Smoky Mountains "but still amazing, given that it is in Georgia."