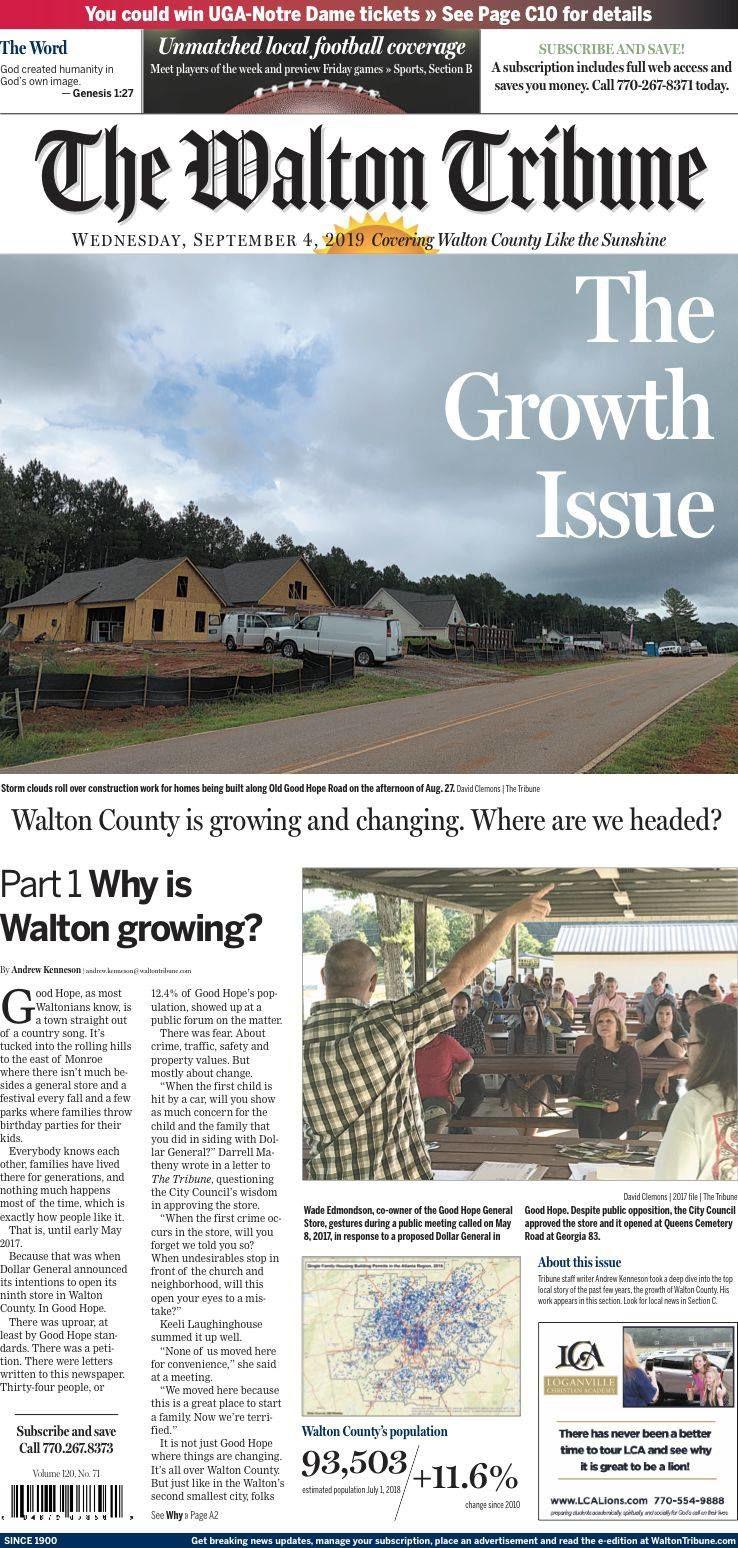 The Walton Tribune has been honored by its peers as the best newspaper of its size in Georgia — again.
The Tribune was honored with the prestigious General Excellence award for the fourth year in a row as part of the 2020 Georgia Press Association Better Newspaper Contest.
Award winners were announced Friday. The GPA had to cancel what would have been its 134th annual convention this spring due to the COVID-19 pandemic.
"We don't do this for awards," Editor and Publisher David Clemons said. "Our main job is to serve the community with a product that reports the news fairly and helps local businesses reach customers.
"But, being recognized is always a nice feeling."
The Tribune has been honored with a first-place finish in General Excellence seven of the past nine years.
Among the awards this year was the W.G. Sutlive Trophy for Community Service, for "The Growth Issue," an in-depth look at the growth of Walton County led by Andrew Kenneson.
Kenneson, a staff writer at the paper from 2018-20, is now a reporter at the Kodiak Daily Mirror in Alaska.
Awards for the newspaper's journalism include the W. Trox Bankston Trophy for Local News Coverage; the Hal M. Stanley Trophy for Layout and Design; and Best Sports Section. The Tribune also was determined to have the best website of all weekly newspapers in the state.
News Editor Stephen Milligan won five first-place awards.
General Excellence winners included the Savannah Morning News, the Valdosta Daily Times, the News-Tribune of Cartersville, the Times-Georgian of Carrollton, The Tribune, the Lake Oconee News of Greensboro, the Champion of Decatur and Smoke Signals of Big Canoe.
The Valdosta Daily Times won the Freedom of Information Award. VDT reporter Riley Bunch won the Emerging Journalist Award.
Matt Aiken of the Dahlonega Nugget won the Photo of the Year Award.
There were 550 awards presented in 46 categories to 39 newspapers. Judging was done by members of the Tennessee Press Association.
The Tribune won the following awards:
Page One: Clemons, third place
Otis A. Brumby Trophy for Serious Column: Milligan, first place; Patrick Graham, second place
Enterprise Story:, Kenneson, first place
Spot News Photo: Clemons, first place
Religion Writing: Milligan, first place
Headline Writing: Clemons, first place
Feature Writing: Kenneson, first place
Lifestyle/Feature Column: Clemons, second place
Hal M. Stanley Trophy for Layout and Design: The Tribune, first place
Education Writing: Milligan, first place
Joe Parham Trophy for Humorous Column: Milligan, first place; Kenneson, second place
Sports Section or Pages: The Tribune, first place
Sports Coverage Story: Milligan, first place; David Johnson, second place; Brett Fowler, third place
Sports Column: Johnson, first place
Sports Photo: Fowler, third place
W.G. Sutlive Trophy for Community Service: Kenneson and Clemons, first place; Kenneson and Clemons, third place
W. Trox Bankston Trophy for Local News Coverage: The Tribune, first place
Best Newspaper Website (all weekly newspapers): WaltonTribune.com, first place
Albert and Dorothy Jenkins Award for Best Use of Graphics and Illustration: Clemons, second place
Best Magazine Cover Design: Fowler and Matthew Grimes, Gridiron Guide, second place
General Excellence: The Tribune, first place