MACON, Ga. — Georgia Farm Bureau members have elected state Rep. Tom McCall as president of the state's largest general farming organization.
McCall, of Elberton, will serve a two-year term. He grows wheat, oats, triticale, grain corn, sweet corn and hay, and his family also raises beef cattle, hogs and sheep.
He succeeds Gerald Long, who retires after serving as the GFB president since 2016.
Long, of Bainbridge, served as 9th District director, South Georgia vice president and GFB first vice president since 1999.
McCall has been a Farm Bureau member since 1978 and first served in leadership as the chairman of the Elbert County Farm Bureau Young Farmers and Ranchers Committee. He represented the 2nd District on the GFB board of directors from 1984-96 and was the president of the Elbert County Farm Bureau for several years.
He joined the state House of Representatives in 1995 and resigned his seat effective Tuesday. He served for 15 years as the chairman of the House Agriculture and Consumer Affairs Committee.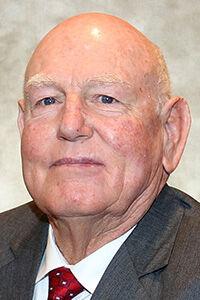 GFB members reelected Bernard Sims of Catoosa County to represent the North Georgia Region on the board of directors. The North Georgia Region comprises 49 counties including Walton.
Sims has served as the Catoosa County Farm Bureau president since 1979. He was a dairy farmer for 40 years until he sold his milking herd in 2004, and his family now grows turf grass, small grains and hay, and raises beef cattle and strawberries.
Daniel Johnson of Pierce County was designated again as the first vice president of the GFB.
Marvin Ruark of Morgan County will begin the second year of a two-year term as a GFB director, representing the 4th District. He and his family also have farming operations in Walton County.