MONROE, Ga. — The city of Monroe, its administrator and its police chief illegally searched private communications to damage the reputation of the fire chief it went on to dismiss.
That's the claim of the former chief, William O. "Bill" Owens, who filed suit Friday in federal court in Athens.
"He is standing up for dedicated and long-term city employees so that they will not be abused and mistreated by the city," Owens' attorney, David C. Will of Lawrenceville, told The Tribune on Tuesday.
Owens had been a firefighter with Monroe since 2000. He had been assistant chief since Sept. 11, 2018, after Keith Glass retired as public safety director, and became chief on Jan. 1, 2019.
But records obtained by The Tribune show it was a rocky tenure, marked by continual conflict between Owens and Propes, his boss.
Propes asked Owens to resign on May 21, 2020, citing conduct unbecoming an officer. The chief asked for a couple of days to think about it, but a day later Will responded refuting Propes' claims of misconduct by Owens and claiming illegal search and seizure by police Chief R.V. Watts.
City officials alleged Owens had an affair with a local woman whose employer had business dealings with the city, in violation of a policy against external fraternization where "a conflict of interest or potential liability" may exist.
City officials said Owens allegedly allowed the woman to have unauthorized access to the city-owned Georgia Utility Training Academy to work on home projects.
The woman's husband reportedly called Watts in mid-May 2020, wanting to show him something important. Watts took Propes as a witness, and the man showed Watts a folder with screenshots from an Apple Watch of text and photo exchanges.
Propes took the folder to City Hall for further investigation.
A few days later, the woman's son contacted Propes saying he had more information, including text messages he read aloud from Owens.
The woman in the relationship field a report with the Walton County Sheriff's Office on May 19, 2020, claiming Watts illegally obtained information from the search.
In a document placed in Owens' personnel file, Propes called the allegations "libel against" Watts that "has further created a public safety divide through no fault of the MPD (Monroe Police Department) Chief."
But in his suit, Owens claims the son of the woman identified in court documents by her initials, K.I., worked with Watts and Propes to "illegally and without the permission of the owner" to the access private communications stored on the watch.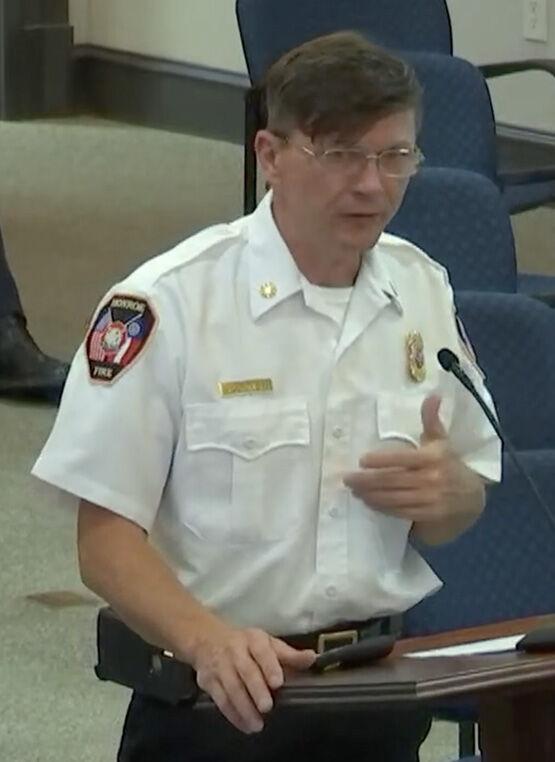 The suit claims K.I.'s son asked Propes to fire Owens based on information "illegally obtained from K.I.'s Apple Watch," and that Watts and Propes "shared the illegally obtained personal data and information with a number of other individuals."
Owens also claims retaliation against his remarks violated his First Amendment rights, and that his relationship with K.I. was "protected and guaranteed under the United States Constitution."
He claimed the city, Propes and Watts interfered with the relationship and that Propes and the city retaliated against him because of it.
Owens is asking for reinstatement as fire chief, a position that was filled by former Battalion Chief Andrew Dykes in April.
Owens is seeking reinstatement of all benefits, lost wages, unspecified compensatory damages and legal fees.
Propes declined comment Tuesday morning, as the city was unaware of the lawsuit having been filed.