MONROE, Ga. — Sheriff Joe Chapman has closed the file on one of Walton County's long-unsolved murder cases.
And a notorious north Georgia man was to blame.
Billy Sunday Birt was behind the death of Monroe grocery store owner James O. "Jim" Daws in 1971. That's according to Chapman in a podcast, "In the Red Clay," which launched Aug. 28.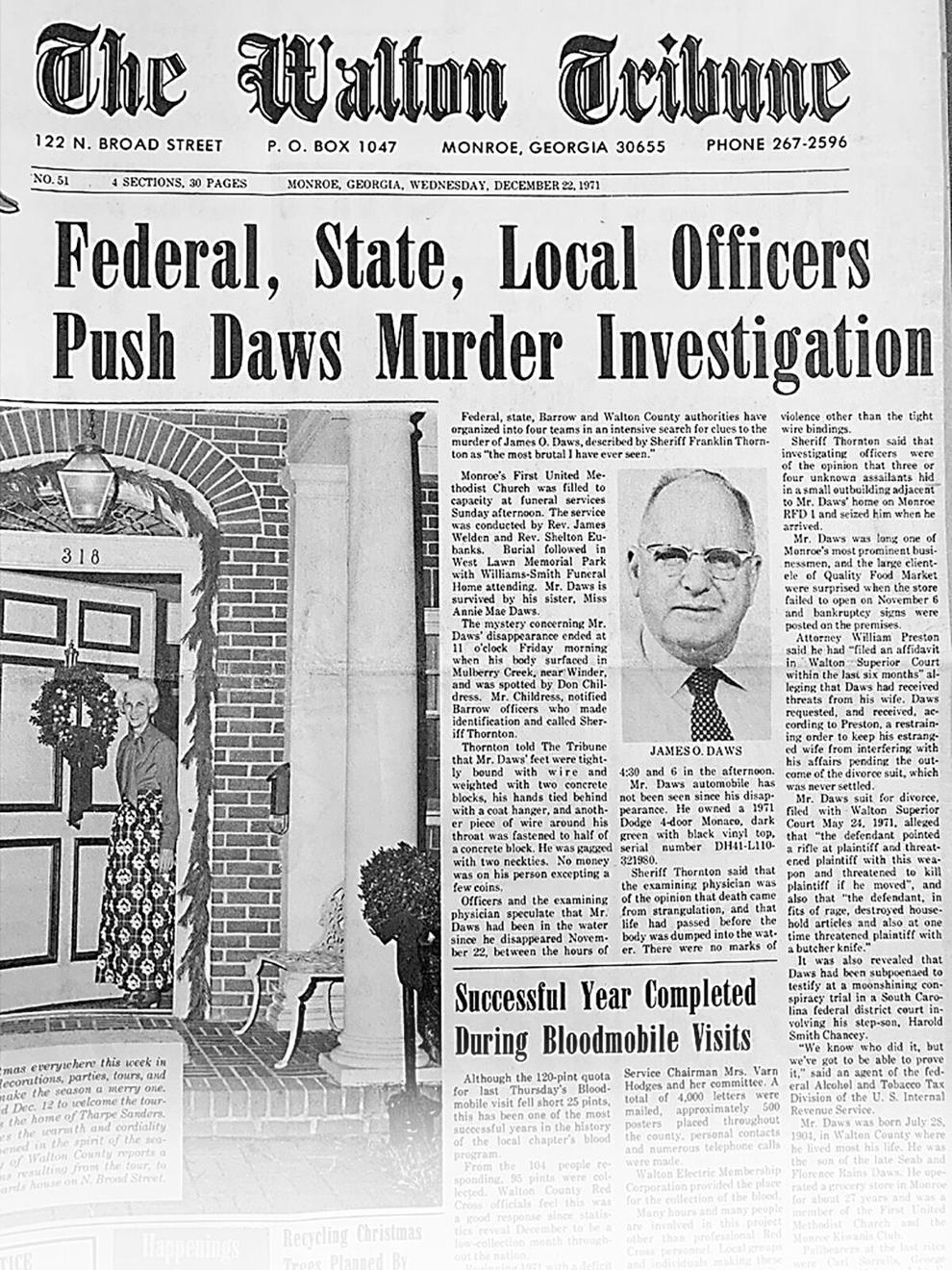 The 12-part podcast from Westwood One and Imperative Entertainment looks at Birt and the infamous Dixie Mafia.
Birt was long thought to be behind the death of Daws, 67, a lifelong Walton County resident who was cooperating with federal investigators. Prompted by questions from "Red Clay" host Sean Kipe, Chapman looked at the old case files and called Birt's son Billy Stonewall "Stoney" Birt, who told the whole story.
But the reason for the death wasn't what many long thought it was, according to Stoney Birt.
Kipe, who now lives in the Atlanta area, told The Walton Tribune this week the murder of Daws was one of Birt's first killings. That led the host to Chapman.
Sean Kipe's work scouting the location for an HBO series brought him to Winder. While there, it didn't take long to hear about the Dixie Mafia.
"I don't know what to make of it," Kipe said. "Sheriff Chapman is a fantastic guy. … The fact these people still talk about this — and I knew he (Chapman) grew up in the area, but that tells me there was something there and it was worth telling that story."
Daws owned a grocery store in downtown Monroe that sold sugar used in making illegal alcohol. In the early 1970s, federal agents and Georgia Gov. Jimmy Carter wanted to crack down on the Dixie Mafia, which included Billy Sunday Birt. Federal agent James Earl "Jim" West moved to Good Hope and took charge of the federal and state operation aimed at bringing down the illegal alcohol trade and other crimes.
"It was sort of a carnival atmosphere around here," Stoney Birt said in the podcast.
Jim West, though, started offering cash in exchange for information about illegal stills. While snitching was an automatic death sentence from the Dixie Mafia, enough people started talking.
"What nobody knew was that Ruth Chancey had an informant inside the Barrow County Sheriff's Office, inside the Walton County Sheriff's Office and inside the GBI," Stoney Birt said.
James O. 'Jim' Daws, the owner of a grocery store in Monroe, Ga., died Nov. 22, 1971. He was 67.
West apparently would brag that he had someone flipped, and the person on the inside of law enforcement let it be known what was happening. Ruth Chancey, "godmother" of the Dixie Mafia and Daws' wife, didn't get to be known as "Ruthless" for nothing.
By November 1971, Thornton thought Daws might be willing to help with the investigation. Daws' marriage to Ruth Chancey had soured — he'd filed for divorce in May — and West contacted him.
Daws swore out a statement about what he knew of the whiskey-making operation, which was to be used in a federal indictment and subsequent trial in Greenville, South Carolina.
Daws' grocery store failed to open Nov. 6, 1971, and bankruptcy signs had been posted on the premises.
Daws was expected to testify soon about moonshining and had been under police protection. Sheriff Franklin Thornton even spent the night at the Daws home a few nights to keep him safe.
But, during a short break from Daws' surveillance three days before Thanksgiving, on the afternoon of Nov. 22, 1971, Daws went missing. So too did his dark green 1971 Dodge Monaco.
He was bound at the hands and feet with telephone cable, taken to the Mulberry River near Winder and dumped into the water.
His body, weighed down by concrete, was found Dec. 17. Thornton, the longest-serving sheriff in Walton County history, called the murder "the most brutal I have ever seen."
The medical examiner figured Daws was killed before being dumped in the creek.
Family and friends packed First United Methodist Church for a funeral service on Dec. 19. Thornton was among the pallbearers as Daws was buried at the West Lawn Memorial Cemetery.
The car was found three days later, submerged in Lake Lanier.
"I had always been told that Jim Daws was going to testify in court, that Harold Chancey and all them were getting sugar to make whiskey," Chapman said.
"I don't know why, because I'm known for doing this, especially old cases — I don't know why in the hell I didn't go ask Billy Sunday if he killed Jim Daws. I just don't know why."
But he did call Birt's son.
"I said, 'Well look, I'm going to ask you something, and if I offend you in any way or piss you off in any way, you can just hang up the phone and you can just forget I ever called.'
"And he said, 'Well what do you want to ask me?' and I said, 'Did your daddy kill Jim Daws?' And he said, 'He damn sure did.'"
Chapman said Stoney Birt told him the conventional wisdom, that Daws was killed over testifying about his sale of sugar, wasn't true.
"Sheriff Frank Thornton of Walton County and Jim West promised him federal protection if he would testify about the sugar and what he knew about the whiskey operation," Stoney Birt said in the podcast. "But what he didn't tell them was, he liked to beat women."
Stoney Birt said Daws beat Ruth Chancey black and blue in her torso during the latter stages of their marriage. Harold Chancey knew about it too and wanted his friend to take care of the problem.
Billy Sunday Birt got a tip that the officers keeping guard on Daws' home were given a few hours' leave for Thanksgiving. A knock on the door from a hitman out of Austell drew Daws to the porch. The hitman, Billy Wayne Davis, said he was there on a tip Harold Chancey was hiding inside.
Behind him was Billy Sunday Birt.
"When Jim Daws seen him, he knew it was over," Stoney Birt said.
Daws handed over $1,500 cash and a diamond ring belonging to Ruth Chancey. It wasn't enough. Birt and Davis took him to Statham. Another associate ran the car off at Lake Lanier.
"My dad and one more put him in a boot, hogtied him, took him to Mulberry Road in a different car," Stoney Birt said in the podcast. "They get to Mulberry Road, which was a dirt road, and a wooden bridge and one-lane (road). They took him out and told him, we know you've the bankruptcy money hid somewhere. Tell us where it is and we'll let you go.
"Well, Daws knew better. He started twisting and flipping and just rolled off in the water before my father had a chance to take the air out of him, as he put it. You didn't put a man in water unless you cut his stomach, or else he would float. That's why he floated one month later. If he had any money, he took it with him.
Chapman said he typed up Stoney Birt's statement and showed it to the district attorney, then closed the case.
Billy Sunday Birt and Bobby Gene Gaddis were convicted of killing Lois and Reid Oliver Fleming Sr. in Jefferson County in 1973. A third man, Charles Reed, was sentenced to life in prison, and three other men were given immunity for their cooperation. But, a federal court vacated the convictions, accepting Birt's argument of ineffective counsel.
Billy Sunday Birt was convicted in 1980 for killing Donald Chancey, Harold Chancey's cousin, in 1972. He was released from federal prison in 1991 and died April 7, 2017, at age 80.
His obituary described him as a "very devoted family man, very giving and … much loved."
Stoney Birt had his own run-ins with the law — he served time in state prison from 1977-78 and again from 1998-2000 on charges including influencing a witness, forgery and theft by receiving stolen property.
Stoney Birt now lives in Oconee County and recently opened a distillery, Rock Solid, in Winder. It's in an old garment factory that his daddy and others robbed "two or three times," Kipe said.