MONROE, Ga. — A resolution proposed in Congress would mark Jan. 22 — the anniversary of the Roe v. Wade Supreme Court ruling that legalized abortion — as the "Day of Tears."
Hice, a Republican from Greensboro who represents Walton County, introduced House Resolution 58 on Friday. That was the 48th anniversary of the landmark court case.
The resolution would encourage Americans to lower flags to half-staff, a traditional sign of mourning.
"The Constitution guarantees Americans the 'right to life,'" said Hice, who has a doctorate in ministry.
"Yet, for nearly half a century, a wildly irresponsible decision by the Supreme Court has legalized the killing of unborn children — the most vulnerable in our society."
Hice said "over 60 million innocent children" have died by abortion since the 1973 decision.
"For the second Congress in a row, I proudly introduce a resolution to mark this dark anniversary as the 'Day of Tears' to honor all those children denied God's greatest gift of life by abortion since 1973 and to encourage Americans to lower our national flag in respect," he said.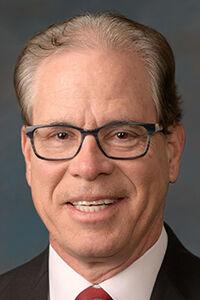 Sen. Mike Braun, R-Ind., introduced a companion resolution in the Senate.
"To mark National Sanctity of Human Life Day and to remember the millions of unborn children lost to abortion, I was proud to introduce the Senate resolution recognizing the 60 million lost since the Supreme Court's 1973 decision and calling for flags to be flown at half-staff in their memory," Braun said.
The resolution had 43 Republican co-sponsors in the House including Reps. Andrew Clyde of Athens and Rick Allen of Augusta.
Meanwhile, President Joe Biden said the anniversary of Roe v. Wade was the "time to rededicate ourselves to the work ahead."
As we mark the 48th anniversary of Roe v. Wade, now is the time to rededicate ourselves to the work ahead. From codifying Roe to eliminating maternal and infant health disparities, our Administration is committed to ensuring everyone has access to the health care they need.

— President Biden (@POTUS) January 22, 2021
In a statement, the White House said the Biden administration is committed to securing Roe into law "and appointing judges that respect foundational precedents like Roe. We are also committed to ensuring that we work to eliminate maternal and infant health disparities, increase access to contraception and support families economically so that all parents can raise their families with dignity."