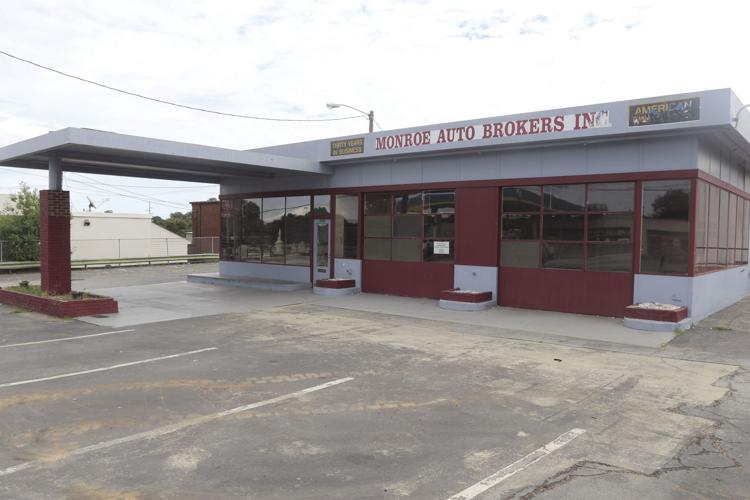 The paper sign hung from the window of the old gas station at 202 E. Spring St. for months in 2018, saying it had been selected for an "economic catalyst" project by the city of Monroe. 
What was going on behind the scenes could not fit on that single sheet of paper. Monroe's Downtown Development Authority was doing something it had not done before. It was acting as a developer for a piece of property, something that any DDA can do, but not many try.
That meant DDA secured financing, bought the property, carried out needed environmental remediation, recruited a business to occupy it, and eventually sold it. 
In the space of about two years, a place that had received scant attention from the private market turned into LR Burger, a now thriving burger joint. It would not have happened without the DDA's help.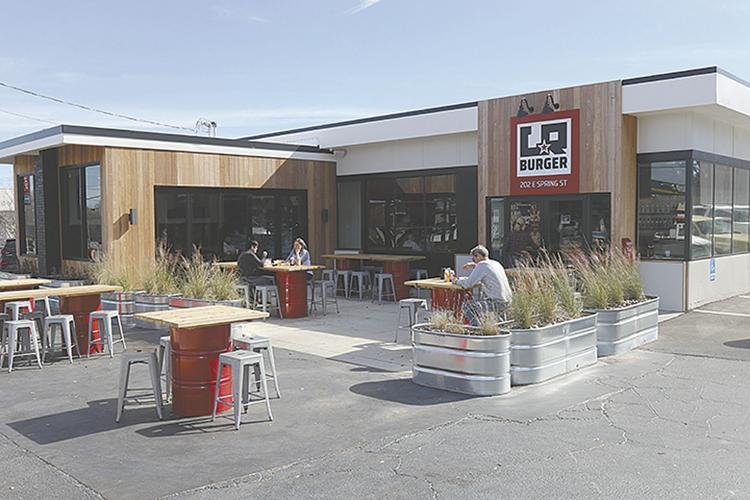 "There's a relatively small number of DDA's that fully utilize their powers," Chris Higdon, the community development manager at the Georgia Cities Foundation, said.
And until early 2017, Monroe's had not.
That was when the DDA started thinking about and researching the property on East Spring Street, Director of Economic Development Sadie Krawczyk said.
It was a used car dealership at that point, and the owner was open to selling. After some negotiation, the DDA put the property under contract in early 2017.
It was in a good location, but it the property had a problem: its former use.
Gas stations require environmental remediation before they can become other things, since gas and other chemicals often leach into the ground. Krawczyk said after entering into a contract with the seller, the DDA had to research how much it would cost to remove the old gas tanks and replace contaminated soils.
That took several months, but the DDA purchased the property in August for $242,000 with a loan from a local bank.
In the meantime, the group started looking around for restaurants that might be interested in opening a location in Monroe.
The partnership would be crucial to the project's success. If the restaurant backed out, the DDA would be left with property it had paid for and remediated but no way to get the money back.
"We did have to take on some risk with this project," DDA member Whit Holder said.
"If they buyer backed out, we'd have to hold the property longer, which is a risk."
The DDA came up with a list of restaurant owners that might be interested. At the top of list were Chris Collin and Ben Bailey, co-owners of Local Republic and Strange Taco in Lawrenceville.
Collin and Bailey had actually done something similar with the city of Lawrenceville when they moved their flagship restaurant into a new space that the city sold to them.
Plus Collin, who lives in Monroe, said the excitement around downtown was obvious.
"There was just so much enthusiasm for this project," he said.
The pair expressed interest in May 2017, but didn't commit right away.
The property entered the Brownfield Program in 2018, an Environmental Protection Agency tool that helps clean up properties that need cleanup. That finished in June 2018.
The DDA closed the sale to LR Burger a month later. This gets at one of the key powers DDAs wield.
Cities can buy and sell land. But when they do so, they have to sell it at a public auction, to the highest bidder. But DDAs are separate entities from cities, Higdon, who works with DDAs around the state, said. He emphasized this freedom.
"They are truly independent. The city is not liable for them. They can be sued as a group and members can be sued individually," he said.
That independence allows DDAs to act as developers, as the Monroe DDA did in this project. They can be more picky than the city can be when selecting a business, even more judicious than a private developer since the DDA does not make money.
DDAs exercise these rights when the private market won't provide a solution. For example, when four buildings in downtown Clarksville, Georgia, burned down in 2014, not many private investors were interested in rebuilding them.
So the city's DDA bought the properties and recruited businesses to occupy them.
The situation wasn't as drastic in Monroe, but the environmental remediation presented a problem for the private market.
"It just needed an extra push to get it over the hump," Holder said.
 In September 2018, the city secured a revolving loan through the Georgia Cities Foundation and the Department of Community Affairs. This is a low-cost loan aimed at downtown revitalization.
LR Burger built out the space through most of 2019, opening in October. The remodel would go on to win the Golden Hammer for best downtown renovation at Monroe's downtown awards.
In December 2019, LR Burger paid the DDA $315,000 to close out the project, leaving the DDA with $69,000 to put toward another project like this.
"We'd like to do it again," Krawcyzk said. "But it is a risk, and all the right pieces have to be in place."
Holder said that risk, and the time, was worth it.
"There's a thriving restaurant there in a cool space. It's something the DDA can use as a model," Holder said.
"If you've had a hamburger there, and you're familiar with what the building was before, I think you'll agree it was worth the wait," Holder said.