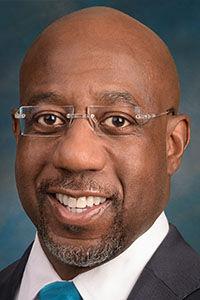 Georgia's first Black senator said the convictions of three men for the murder of Ahmaud Arbery was a courtroom victory, but fell short of justice.
"This verdict upholds a sense of accountability, but not true justice," Sen. Raphael Warnock, an Atlanta Democrat and pastor, said Wednesday, moments after a judge in Brunswick announced the convictions of Travis McMichael, Greg McMichael and William "Roddie" Bryan in Glynn County Superior Court for the 2020 shooting death of Arbery.
"True justice looks like a Black man not having to worry about being harmed — or killed — while on a job, while sleeping in his bed, while living what should be a very long life.
"Ahmaud should be with us today."
Arbery was 25. The jury rejected the defendants' argument that they shot him in self-defense in a neighborhood outside Brunswick.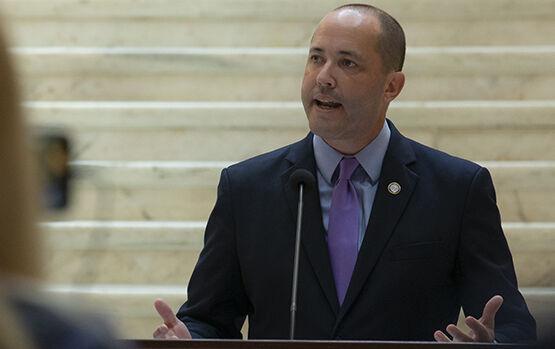 Attorney General Chris Carr, who took over the case from local prosecutors, called the death of Arbery "a tragedy that should have never occurred."
Carr, a Republican, turned the case over to the Cobb County district attorney's office after two district attorneys in coastal Georgia passed on prosecuting it.
"Today's verdict brings us one step closer to justice, healing and reconciliation for Ahmaud's family, the community, the state and the nation," Carr said.
Gov. Brian Kemp also weighed in on the verdict.
"Ahmaud Arbery was the victim of a vigilantism that has no place in Georgia," said the Republican governor, who signed an overhaul of the citizen's arrest law in the wake of Arbery's murder.
"As legal efforts continue to hold accountable all who may be responsible, we hope the Arbery family, the Brunswick community, our state, and those around the nation who have been following his case can now move forward down a path of healing and reconciliation."
Sen. Jon Ossoff, D-Atlanta, expressed sympathy to Arbery's family and thanked the jury for its service. Ossoff issued this statement:
"Ahmaud Arbery was a young man whose life was stolen from him, from his family, from the many who knew and loved him, and from the countless lives he would have touched in decades to come.
"Ahmaud Arbery's murderers will be held accountable, but a historic civil rights mobilization was necessary for the killers to face prosecution at all. There was nearly impunity for this murder, and further investigation is necessary to determine how and why officials initially refused to pursue the case.
"The circumstances of Ahmaud Arbery's murder and the struggle required to secure a prosecution demonstrate profoundly the urgency of reforms to make equal justice real in America."
Rep. Nikema Williams, D-Atlanta, agreed work remains to be done.
"Tragically, America is still a country where a Black man is not safe going for a jog," she said. "We have much more work ahead so that little Black boys like my son Carter know that their Black lives matter.
"Although nothing can bring Ahmaud Arbery back, my hope is that his family can find some solace in knowing that those who murdered Ahmaud are being held accountable."