MONROE, Ga. — As former Ambassador Nikki Haley and Sen. Kelly Loeffler spoke to a sun-soaked crowd of Republicans on their lunch breaks, a stone statue of a Confederate soldier kept watch on the city's western front, as he has for 104 years.
Haley settled a long-simmering debate in South Carolina as governor, signing a bill to remove the Confederate flag from the grounds of the state Capitol in 2015.
The flag was removed a month after the racist shooting deaths of nine Black members of a Bible study at Emanuel African Methodist Episcopal Church in Charleston.
The flag's presence had been a divisive issue in Columbia, but it didn't resolve the issue across the South by a long shot. As racial tensions have boiled over in the summer of 2020, there's a renewed focus on Confederate imagery, particularly statues.
Sen. Kelly Loeffler, R-Ga., waves to the crowd at a rally Friday afternoon, Oct. 30, 2020, in Monroe, Ga.
In neighboring Newton County, the Board of Commissioners on a split vote called for the removal of the memorial to Confederate dead on the Covington Square. The matter is tied up in court.
There have been similar calls to remove the statue in Monroe, but a Facebook group dedicated to saving the monument seemed to generate more traction than the effort to remove it did.
"The way we handled in South Carolina is, the flag is a living, breathing symbol," Haley said. "We didn't want that representative on our statehouse grounds.
"We took the approach in South Carolina that we can't take down every monument, every street sign, everything that's there. So instead we add to. We added and started building an African American Museum. We added a Mother Emanuel monument.
"So add to history, don't erase history, and I think at the end of the day the people of South Carolina stepped up at a time when we needed them and continue to make us proud every day."
Loeffler, R-Ga., agreed the Confederate monuments should stay.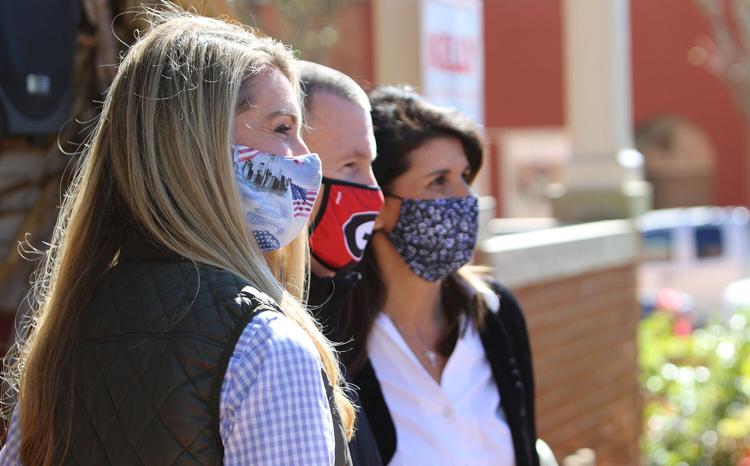 "We can't change the course of history. We can learn from it," she said. "We don't need to be taking down monuments. What we do need to be doing is moving forward together as a country."