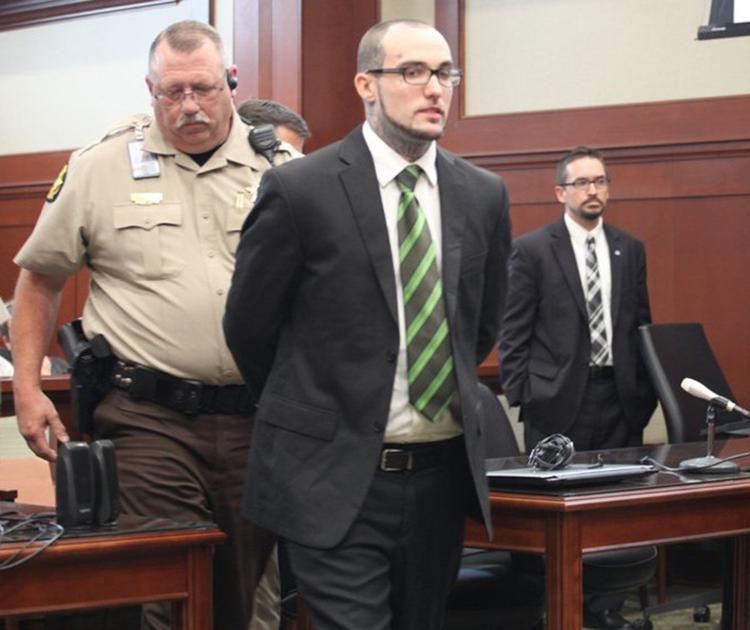 COVINGTON, Ga. — "He is a selfish, violent, predator," Assistant District Attorney Amber Bennett said of James Gary Hill III during her closing arguments Thursday morning.
Hill's trial started after jury selection Tuesday morning in front of Alcovy Judicial Circuit Superior Court Judge Horace J. Johnson Jr. and took the majority of three days to argue.
Jurors in the case — five women and seven men — were handed the case Thursday afternoon for deliberation and in just over an hour returned a guilty verdict on all three charges.
Johnson then sentenced Hill to life in prison on the charges of malice murder, felony murder and aggravated assault in the August 2017 death of Kelly Marshall, a local mother of two.
"The Newton County district attorney's office was happy to be able to help bring justice to Kelly Marshall and her family, especially her children," Bennett said in a statement to The Covington News.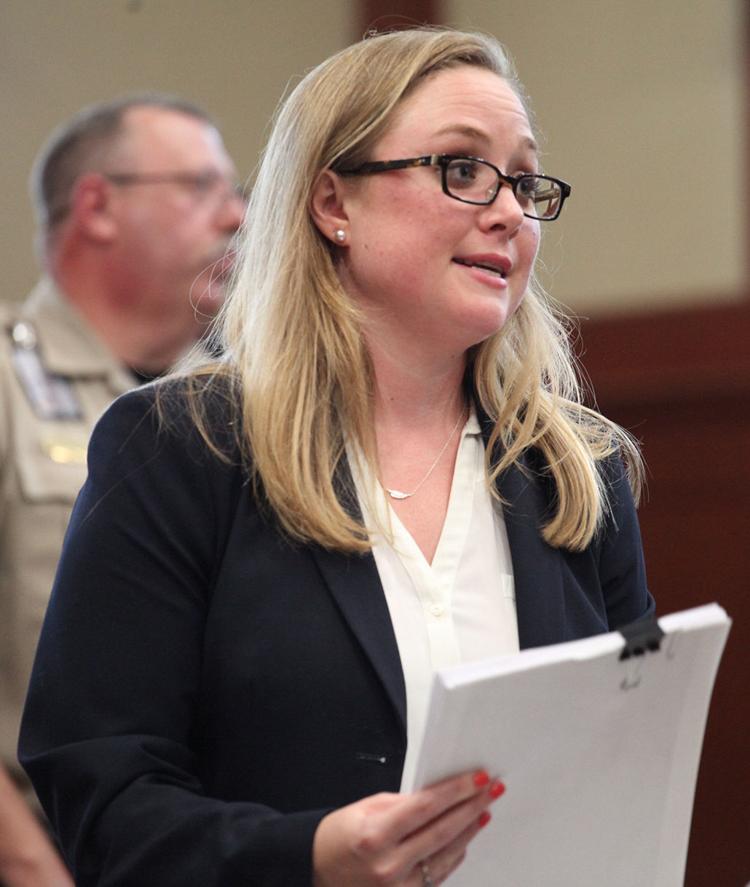 "Hopefully, the verdict brings them some peace and sense of closure. Kelly was a wonderful person with a great spirit and will be dearly missed.
"We also thank Investigator Brent Morrison for his diligent work in solving this murder and helping prepare the case for trial. Thankfully, due to his hard work, and the hard work of many others involved, James Hill will serve a life sentence and will not be able to harm other innocent people for the foreseeable future."
Trial uncovers events of death, aftermath
According to evidence and testimony provided in the trial, Hill and Marshall were dating for about six months at the time of her death.
Marshall's body was found the morning of Aug. 12, 2017, by deputies with the Newton County Sheriff's Office who responded to a suspicious call on Mount Tabor Road. She was found lying face down and nude from the neck down.
Hill and Marshall had spent the day of Aug. 11 together, visiting Jack's Creek in Oconee County. According to testimony from both Marshall and Hill's friends, the couple were arguing that day.
Hill then dropped Marshall off down the street from her grandmother's home, where she resided, but later returned to meet her at her bedroom window. According to testimony, Hill was not allowed inside the house, so coming to the window was common.
Once home, Marshall grabbed a plate of food from the kitchen and ate dinner in her bedroom. She returned for a second helping, which was uncommon, according to Larry Atkins, her father, and Jan Harper, her grandmother, who both lived in the home with Marshall.
Atkins and Harper then testified to hearing what sounded like moving furniture coming from Kelly's room on the night of Aug. 11, but neither went to check on the sound.
The following morning Atkins went to borrow a cigarette from Marshall and found her bedroom door to be locked. He testified he was able to open the door after shaking the doorknob and realized she was not in her room.
Atkins said Marshall's bedroom window was open and the screen was removed. Her phone and purse were still in the room as well.
A few moments later, the Sheriff's Office arrived at the house and notified Atkins his daughter had been found deceased.
During that time, the state began to uncover what Hill was doing from the time Marshall arrived home and the time she was found.
In the third day of the trial, Hill testified that after dropping Marshall off, he parked his car and met her on the back porch of her house. During that time, she smoked marijuana and was talking about buying more.
Hill said the couple had plans to get a hotel room and hang out with friends, but when those plans fell through he told Marshall he was going home even though he still had plans to go out on his own.
Before arriving at his aunt's house where he lived, Hill texted Marshall and told her he was going to sleep. Instead, he took a shower, got dressed and reportedly headed toward Atlanta.
Right before 1 a.m., Hill was seen on security camera footage walking into The Cheetah, a strip club in Atlanta. He was in the club for about 1 1/2 hours before leaving around 2:26 a.m. More than three hours later, he was seen pulling into the parking lot of the Sheraton hotel, about 2 miles from The Cheetah.
According to the original interrogation between Morrison and Hill, Hill said during this time he was just driving around in Atlanta looking for a hotel.
Later during the trial, Hill testified that he returned to his aunt's house because he had run out of money at the club. Hill took money his aunt had asked him to deposit for her, and returned to Atlanta to go to Crazy Atlanta to purchase drugs and then go to the hotel.
During his trip back to Newton County, Hill wrecked his car on Alcovy Road, near Little Bethel Church Road, and a passing motorist made a 911 call to report the accident.
An officer who responded to the scene ran Hill's license plate number, but a traffic stop was not initiated because he was not in violation at the time of the officer's arrival.
Hill testified that he stayed at the Sheraton hotel for two days before returning home. On his way home, he stopped at the Walmart in Conyers and later that day he stopped at the Walmart in Monroe to purchase a new phone after claiming his broke.
After leaving the Monroe Walmart, a Walton County sheriff's deputy pulled behind Hill and attempted to initiate a traffic stop, but Hill fled. Eventually, after reaching speeds of more than 100 mph, Hill wrecked his vehicle and was placed under arrest.
Hill testified that he fled because there were drugs in the vehicle, but no drugs were located within the vehicle at the time of his arrest.
Once booked into the Walton County Jail, Hill made his one free phone call to his aunt. Hill claimed that phone call, which lasted about two minutes, is when he first learned of Marshall's death and was told it was due to an overdose.
Hill was later arrested and charged with aggravated assault and possession of drugs while incarcerated in the Walton County Detention Center.
Violence, jealousy in 'toxic' relationship
During the trial, the state provided several witnesses who testified that Hill and Marshall's relationship was "toxic."
Marshall's mother, Gayla Atkins, shared a story of an incident that happened in Greensboro about two weeks prior to Marshall's death.
According to her testimony, Marshall and Hill were visiting her family, when an argument between the two turned physical. Hill began hitting Marshall and when Gayla tried to intervene, she was hit as well.
Two other incidents of domestic violence were described throughout the trial through testimonies from Marshall's daughter, Jayla Marshall, and other family members and friends.
Gayla also testified Hill was never comfortable with Marshall's relationship with her husband, Thomas Marshall. Thomas Marshall was incarcerated at the time of her death but was scheduled to be released on parole Aug. 18.
Gayla testified that after her death, she went to Kelly Marshall's room looking for her wedding rings, but they were missing. Another important piece of jewelry, a chain necklace Kelly wore all the time, was also never located.
Once released, Thomas Marshall was paroled to live at Kelly's house. When he arrived, one week after her death, he noticed the photo albums of the two of them were broken and she had a baseball bat behind her door.
History repeats itself
When Hill was 17 years old, he pleaded guilty to aggravated assault after being accused of strangling his ex-girlfriend, Amber Land.
Land testified she was walking home from a party when Hill came from behind and strangled her. She lost consciousness and when she woke up, her clothes were removed from the waist down and Hill's hand was between her legs.
She pleaded with Hill and he allowed her to leave to go get something to drink from her house. Once home, she notified her mother and brother of what happened and Hill was later arrested on the charge of aggravated assault.
The state used this incident and the death of Hill's mother to show a pattern throughout the trial.
Hill's mother, Tina Marie Hill, was murdered in 2005. Her body was later found in a shallow grave and the man accused of the crime accepted a plea deal on charges of felony murder and concealing the death of another.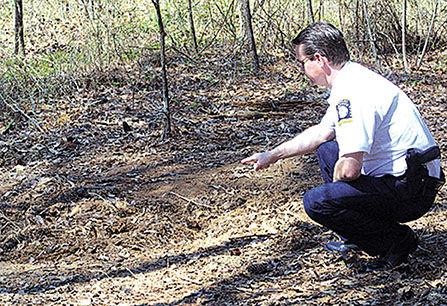 During James' sentencing hearing, Carter said he hoped the pattern of violence would end.
"I do want to note for the court, Jim (James) was Jayla's age when he had to go through this experience," he said. "Talking about your mom not seeing your birthdays and things like that.
"It's really said. I hope Jayla turns out better."
Carter also mentioned that he previously represented William Fred Maloy Jr., the man who murdered Tina Hill.