Strong winds and fierce hail slammed Walton County on Monday.
It was the second straight day of bad weather in the area. Both caused downed trees and power outages, but no injuries were reported.
Two homes sustained significant damage Monday, county government officials said. One is on Old Highway 138 and the other is on Hillview Drive, Oxford.
"The storm came so quick. I thought it was just going to rain," said 86-year-old Barbara McMichael, a resident of Kent Rock Road west of Walnut Grove. "Before we knew it, we had hail and it had covered everything in just a few seconds.
"It looked worse than an ice storm."
Residents were sure it was a tornado, but the National Weather Service disagreed.
"We didn't see any signs of a tornado or receive any reports indicating that one happened," staffers from the weather service Atlanta office told The Walton Tribune on Tuesday.
"But we can say there was some pretty significant wind gusts along with some damaging hail."
We didn't see any signs of a tornado or receive any reports indicating that one happened. But we can say there was some pretty significant wind gusts along with some damaging hail. At this time, we do not plan on sending a survey team.

— NWS Atlanta (@NWSAtlanta) June 16, 2020
The weather service did not plan to send a survey crew to the scene. But, residents in the area said they didn't need one to validate what they saw and felt
Caitlyn Nichole Thompson told The Tribune via Facebook the storm was "definitely a tornado" when it passed near her home outside Walnut Grove.
Jeni Melton, who lives near the intersection of Georgia 81 and Jersey-Walnut Grove Road, said she didn't see the hail but certainly noticed the wind and rain.
"My daughter looked out the window and swore she saw the clouds turning 'like (a) tornado,'" she said.
Jan Gates Rabb said it seemed like a tornado on Kent Rock Road in unincorporated Loganville.
"The whole street has trees down, power lines down (and) gutters, shingles and trim pulled off houses," she said, adding trampolines even got blown down the street.
"It seemed to come from nowhere," she said. "It started raining and two minutes later it hit — scary stuff for sure!"
Hail covered the ground near Sharon Elementary School, and it piled up 3 inches high in Oxford resident Marsha McGee Richardson's driveway.
Shortly before 7 p.m., Monroe-based Walton Electric Membership Corp. had 525 customer-owners without service in Walton County and about 100 more in Newton County. However, it had just two outages in Walton County by Tuesday monring.
Covington-based Snapping Shoals EMC had 284 outages in its service area at about 7 p.m., but all customers were back online by around 11 p.m.
County public information officer Patrice Broughton said the American Red Cross is helping affected residents who need shelter.
The weather service issued two severe thunderstorm warnings. The first was at 4:02 p.m. for a storm in the Lawrenceville area expected to affect Loganville, Monroe and Walnut Grove in the next half hour.
A second came at 4:23 p.m. for southwestern Walton County, as well as eastern Rockdale and northern Newton counties. It covered Walnut Grove, Jersey, Covington, Conyers and Oxford.
The hardest hit are was fairly close to the area affected by a tornado on April 5, 2017. That storm, centered on Wapakonata Trail in southwestern Walton and northern Newton counties, was an EF1 strength with 107 mph winds. No one was hurt.
The last recorded tornado in Walton County was Aug. 1, 2018, along Social Circle-Fairplay Road.
The storm Monday also dumped quarter-sized hail in downtown Covington and golf ball-sized hail just east of the city.
Multiple trees were reported down on Hoke O'Kelly Mill Road near Loganville in Gwinnett County. Power lines were reported down in the 600 block of Grayson-New Hope Road.
Severe weather on Sunday night was centered in the Good Hope area, with trees blocking Georgia 186 east of the city for some time during the evening. At the peak, about 800 Walton EMC customers were without service.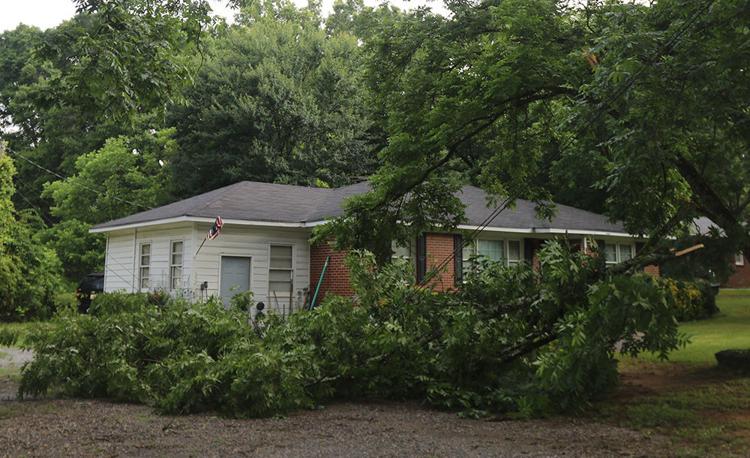 Walton County Fire Rescue reported a house in the 2300 block of Old Hickory Place, Bold Springs, struck by lightning. It sustained a power surge, but didn't burn.
Assistant Chief Craig League said there were numerous reports of trees down in the area of Mount Vernon Road Northwest and Jacks Creek Road Northwest, east of Monroe.
The Walton County Sheriff's Office reported trees down on Georgia 186 between Preston and Jones Wood roads east of Good Hope.
The same storm blew a tree onto power lines on Hebron Church Road near Dove Creek Road in Oconee County and knocked down a tree on Moore's Ford Road.
Traffic was snarled in downtown Monroe at the same time, but for reasons not related to weather. A tractor-trailer hit a traffic light post at East Marable and North Broad streets, police Officer Shannon Haynes said. Police later issued citations.