MONROE, Ga. — On a day when early voting shattered records, local Republicans rallied their base with three high-profile national candidates.
Sen. David Perdue and Reps. Jody Hice and Doug Collins huddled with Walton County Republicans on Monday night in their last meeting before the Nov. 3 election.
Perdue and Hice are running for reelection and Collins is a top contender in the wide-open race for Georgia's other Senate seat.
"Georgia has changed," Perdue warned, hours after he debated Democratic challenger Jon Ossoff.
The senator, seeking a second term, noted the close governor's race in 2018 when Republican Brian Kemp won by fewer than 55,000 votes out of more than 3.9 million cast. Perdue blames people who have moved in from other parts of the country.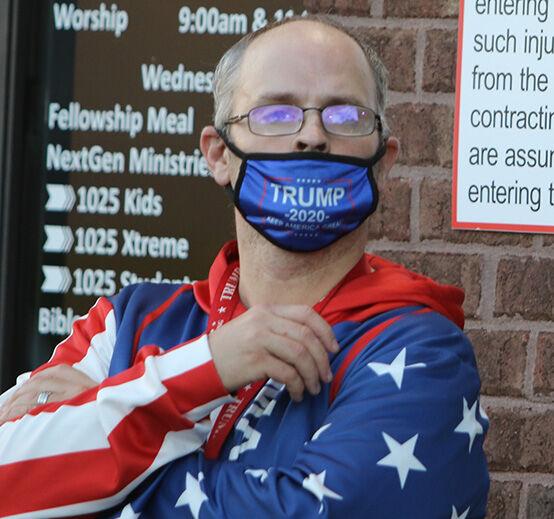 "Most of them don't believe like we do," Perdue said.
Collins, who's represented northeast Georgia in Congress since 2013, made the first public visit to Walton County during his campaign for Senate. He never mentioned his main Republican rival — incumbent Kelly Loeffler, Kemp's appointee — by name, but did work to tie her to Stacey Abrams, whom Kemp beat for governor two years ago.
Although Collins used his roots as a Baptist preacher to fire up the GOP crowd at 1025 Church and touted his bona fides as the "tip of the spear" in defense of President Donald Trump during the impeachment, his attacks on Loeffler did prompt a few heckles, either from her supporters or opposition campaign trackers out to try and catch a gaffe.
As Collins wrapped up his speech, his press team sent out a Fox News article from earlier in the day about a resolution he offered in the House, calling for the removal of Speaker Nancy Pelosi, D-Calif., claiming she "does not have the mental fitness" for the job.
The three members of Walton County's state legislative delegation who face opposition on the ballot this fall — Sens. Burt Jones and Bill Cowsert, and Rep. Bruce Williamson — also urged local Republicans to make their voices heard at the ballot box.
"Vote: That's all it's about right now," Cowsert said.
The Athens attorney whose Senate district includes Loganville and Monroe said he saw a long line outside the Clarke County elections office Monday for early voting.
"It was scary because there aren't all that many Republicans in Athens, Georgia," he said. But he noted phone calls later in the day that reassured him the same scene was playing out in more reliable GOP territory, with retired city Public Safety Director Keith Glass in Monroe and County Commissioner Mark Banks in Loganville seeing the same thing in their towns.
"We are turning out the vote, and so are they," Cowsert said. "This early voting plays to our advantage."
He urged Republicans to keep an eye on the lines, and when they start to slack, take advantage.
"If we turn out the same percentage of voters that the Democrats do, we are going to win," he predicted.
Williamson, who's represented a Monroe-based district since 2011, warned that Republicans lost 14 seats in the Georgia House of Representatives two years ago.
"If that happens again, the Democrats are in control of the Georgia House of Representatives," he said.
That would give Democrats control over redistricting after the 2020 census.
Collins served with Williamson in Atlanta and agreed that isn't what the faithful who were at Monday's meeting want. He warned of a return "back to the Tom Murphy years," referring to the late state House speaker who ruled the Gold Dome with an iron fist for years before Republicans wrested control in the early 2000s.
Jones agreed the stakes are huge.
"I don't think there's ever been such a divide between the parties and what their platform is," he said.