MONROE, Ga. — President Donald Trump's campaign has asked for a recount of votes in Georgia.
The Republican president came up short in the Peach State's general election. Democratic nominee Joe Biden carried the state by a margin of 12,284 votes.
The Associated Press and other national news organizations have declared Biden the winner of the election, although Trump has refused to concede or to cooperate with a transition.
Georgia conducted a "risk-limiting audit" of the slightly more than 5 million votes cast across all 159 counties. It found missing votes in four counties, including Walton, but not enough to knock Biden out of the lead.
Secretary of State Brad Raffensperger, a Republican, certified the election results Friday afternoon. Shortly thereafter, Gov. Brian Kemp affirmed them, clearing a path for legal challenges but also setting the stage for a slate of 16 Democratic electors to meet at the state Capitol on Dec. 14 and cast Georgia's presidential votes for Biden and his running mate, Sen. Kamala Harris.
The Trump legal team in Georgia, led by Rep. Doug Collins of Gainesville, issued this statement Saturday night:
"Today, the Trump campaign filed a petition for recount in Georgia. We are focused on ensuring that every aspect of Georgia State Law and the U.S. Constitution are followed so that every legal vote is counted. President Trump and his campaign continue to insist on an honest recount in Georgia, which has to include signature matching and other vital safeguards. Without signature matching, this recount would be a sham and again allow for illegal votes to be counted. If there is no signature matching, this would be as phony as the initial vote count and recount. Let's stop giving the People false results. There must be a time when we stop counting illegal ballots. Hopefully it is coming soon."
"We have signature match when you request the ballot, absentee ballot," he said. "And then we have signature match when it comes in and then with our new online absentee ballot portal, that has photo ID so we feel really confident that the election officials have done their job."
The New York Times reported that the signatures on absentee ballot envelopes are matched to other signatures in the voter's record as they are received by county elections officials. The envelope containing the signature is then separated from the ballot to protect the voter's secrecy, and if a voter's signature doesn't match, the voter is contacted to provide clarification.
The ballots and envelopes are kept for two years, but they cannot be matched to ballots.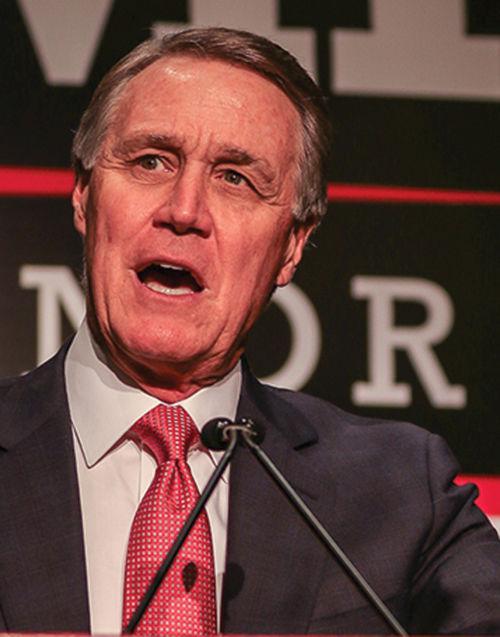 Sen. David Perdue, who was on the Nov. 3 ballot, fell just short of an outright victory in his bid for a second term. Instead he's in a runoff against Democratic challenger Jon Ossoff.
Perdue said he's on board with the recount.
"I support President Trump's request for a recount in Georgia, one in which signatures on absentee ballot envelopes are properly matched and verified to their signature on the registration," Perdue said in a statement Sunday afternoon. "Anything less than that will not be a full and transparent recount.
"I have spoken to President Trump several times in the last week about this, and as I have said from the beginning: Every legal vote cast, should be counted. Any illegal vote shouldn't. Georgians deserve full transparency and uniformity in the counting process."