High school football under the lights on Friday nights is a tradition in the South. With six high schools in the area, Walton County is certainly no exception.
It's more than just a game; it's a unique experience that means something different to everyone in attendance. Whether it be the older fans cheering on their alma maters to parents cheering on their kids, high school football games have something for everyone.
For students of these schools, it's an opportunity for the student body to come together as the student section to cheer on their teams.
While what each student section does varies from school to school, they all have one broad purpose: cheer on the team they are watching.
George Walton Academy has grown into one of the most well-known student sections in the county, and according to the trio of seniors that ran GWA's student section last year, it was the best.
"I know we had the best student section around, because people would come from Walnut Grove, Monroe, Loganville, all over the place, and the come to our student section, because we had the most participation," GWA's Collin Shiver said. "That's what all it really comes down to is participation."
The different schools have their own ways of getting students involved. The most common throughout the county are theme nights. Those themes can be related to the team, such as a color-out, or completely unrelated, like the American-out that GWA had last season. 
Student sections will also cheer along with the cheerleaders or start their own chants throughout the game.
"We learned the cheers the cheerleaders did, so that we made the student section go along with them," Tyler Post, one of Social Circle's student section leaders, said. "We did all kinds of chants. We just tried to bring positivity out of everything that's happened during the game, no matter what."
One of the more unique techniques for getting students involved at the games was at GWA. For each game, they would bring in a speaker to play music to hype up the student section. One song in particular that caught on with this was "Beautiful Now," by Zedd.
"Everybody grew to love it," GWA's Charlie Hester said. "It'll start off slow, and then like halfway through, the beat would drop, and everybody in the whole stands would just start jumping around and going crazy. It's really fun and everybody always look forward to that one part of the game every time."
The song plays during the third quarter, normally after a touchdown.
With the complexity of student sections, an immense amount of planning is required to make sure everything happens the way it's supposed to.
The first thing that has to be approved is the themes for each week, all of which have to be approved by the school's administration. Then, they have to get the word out about it.
While most schools do use fliers, the primary means of advertising is through social media.
"We post the fliers throughout the schools and Twitter," Social Circle's Shelby Harpe said. "Once it was on Twitter, we would screenshot it and post it on our Snapchats and tell everyone to come out and give them examples of how they could dress or what they could wear and bring for support." 
The school social media accounts are used for this, but the word spreads quicker through the student sections leaders' personal accounts.
"It was really big," Post said. "I use Twitter and Snapchat a lot, so that's how I got the word out. Because we're a smaller school, everyone is friends on social media, and it just spread like wildfire."
Monroe Area uses its student section leaders to help spread the word verbally.
"Once we tell them the actual theme, the student section leaders tell everybody that sits in the student section during the morning and afternoon announcements," Ava Atkism, one of Monroe Area's student section leaders, said.
After people start spreading the word, the student section leaders have to get prepared for Friday night.
"On Fridays, we wake up and go eat at Pot Luck for breakfast in the morning, then we go to school, and then after school, we go to Walmart and buy paint, any kind of stuff or clothes we need," Hester said. "We would all try to match for each football game based off of the theme."
These themes can prove to be quite elaborate. This past season, GWA had a Hawaiian-out, and the student section brought out kiddy pools in front of the stands to jump in. Social Circle hosted a "Gold Out" and helped raise $600 in the fight against childhood cancer, a disease which had personally affected a football player and a cheerleader for the Redskins.
"We were known as the guys who really just went the extra mile," GWA's Bo Roberts said.
Just as each student section is unique in how it cheers on its team, each one is unique in the challenges it faces.
At Social Circle, the biggest challenge is that the school itself is small, and the football team has struggled recently. Over the last five seasons, the Redskins have averaged between three and four wins per season and have not had a winning season since 2006.
The school's size also plays a big role because a lot of the guys who would otherwise be in the student section are playing on the team or in the band.
"It's hard to get a lot of upperclassmen to come, because they feel like they have better things to do on a Friday night," Harpe said.
To get more students to come out, Harpe and Post decided to document how much fun they were having to show to those who decided not to come.
"One night, it was our gold out which was one of the region games, we had a lot of people dress out, and we brought like megaphones and beads, and the cheerleaders decided to start throwing out like footballs and T-shirts," Harpe said. "And then we would take videos and air horns and everything and we would just go absolutely crazy, and we would post those in hopes to bring out more people for the next game."
Monroe Area faced a similar challenge in getting people to come to the games, but once the Hurricanes started playing well, more students started coming out.
"Once you have a winning football team and a good town that's supportive of you, there really is no challenges after that," Atkism said.
GWA tackled its student participation problem in a bit of a different way.
"I think it's excitement," Shiver said. "I think when kids see that, all their other friends out there at the football game, having a great time. Social media has helped us a lot, as far as everyone just putting it out there and seeing how much fun we are having. The themes helped out a lot because it is this fun to dress up and go to a football game."
Challenges also arose when Walton County's student sections expanded to other sports.
Social Circle makes an effort to go to important matches in other sports, such as softball, wrestling, baseball and soccer.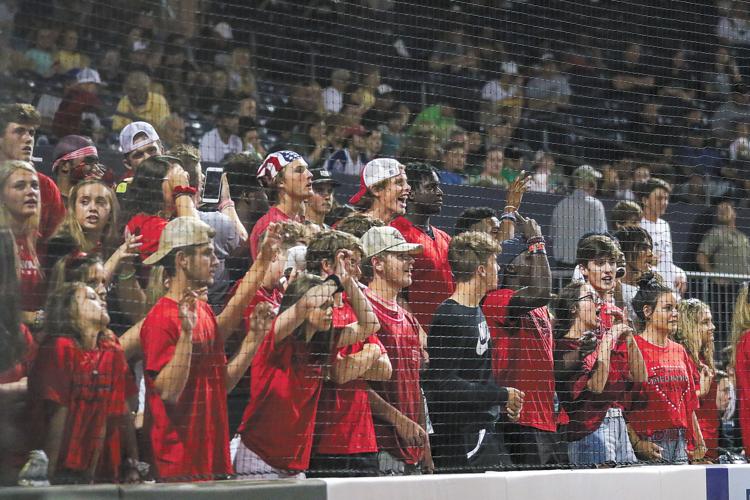 "Football games are definitely easier to get people to come to," Post said. "Everybody wants to go to a football game thats bigger, more seating and more people are going to turn out. I guess for football the themes were already made, so whenever I showed up to softball games, I had to make the student section, whereas there was a student section for football."
George Walton primarily focuses its remaining attention on basketball. The challenge in basketball is they cannot use the speaker they use for football games.
"We had to bring a whole new element into getting everyone riled up, getting them wild," Shiver said. "We had a bunch of chants going on, the roller coaster where we would get everyone involved, so it's a whole different kind of deal."
There is another challenge facing GWA as they move into a new year. The trio that leads the GWA student section recently graduated and won't be around in the fall, which means others will have to step up in their absence.
"We were trying to start a tradition, because George Walton has never really had a student section," Shiver said. "There's people who would come to the game and sit there on the fence and just watch the game, but no one really ever got excited."
The GWA student section started growing in size when Shiver volunteered to head it as part of the student council as a junior. In his first year, Shiver said the student section was good, but he wanted to ramp it up for his senior year, so he asked Roberts and Hester to join him.
"It just kicked off big and we started getting more and more kids come out," Shiver said. "We got basically a cult following. It was big. It was really big."
"We really want that to keep this passing down," Roberts said. "I feel like the football team has a better time on the field, and I feel like they play better to have more of a crowd supporting them, so we're going to try our best to pass the torch down."